Creating an effective patient engagement set of practices that is enduring and future-proof
Patients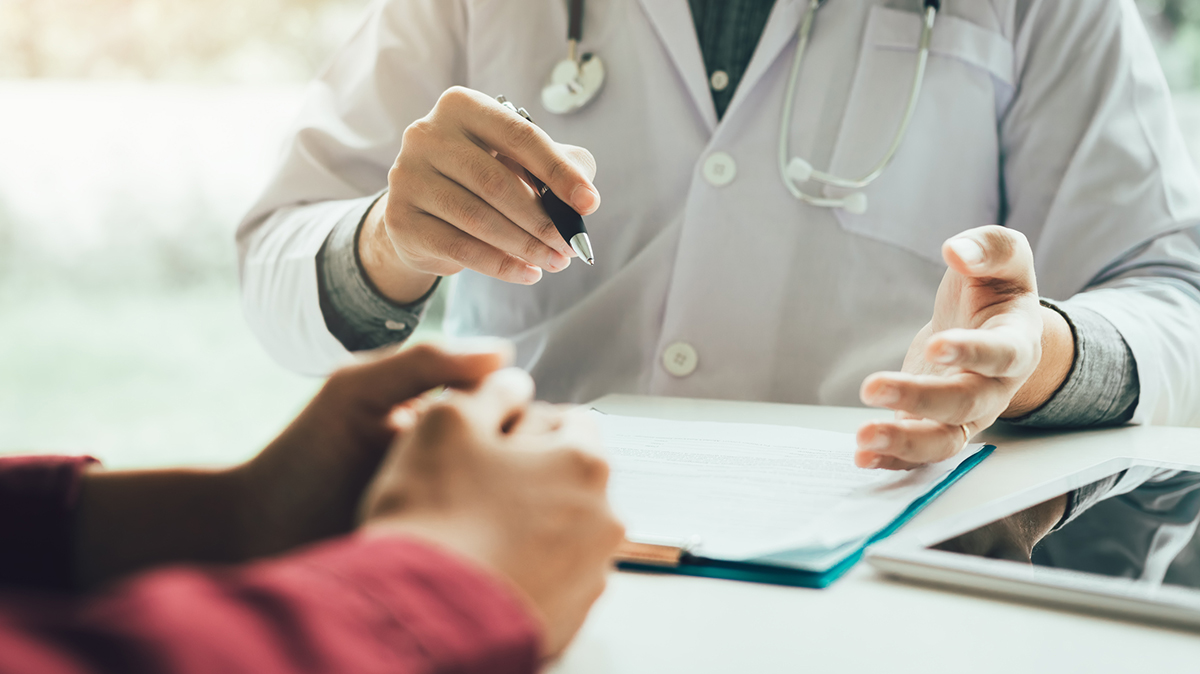 For the past ten years we've seen a steady acceptance of the need for patient engagement practises to become routine and integrated into all systems of healthcare and the creation of new medicines and devices. The milestones of patient engagement are illustrated in figure 1.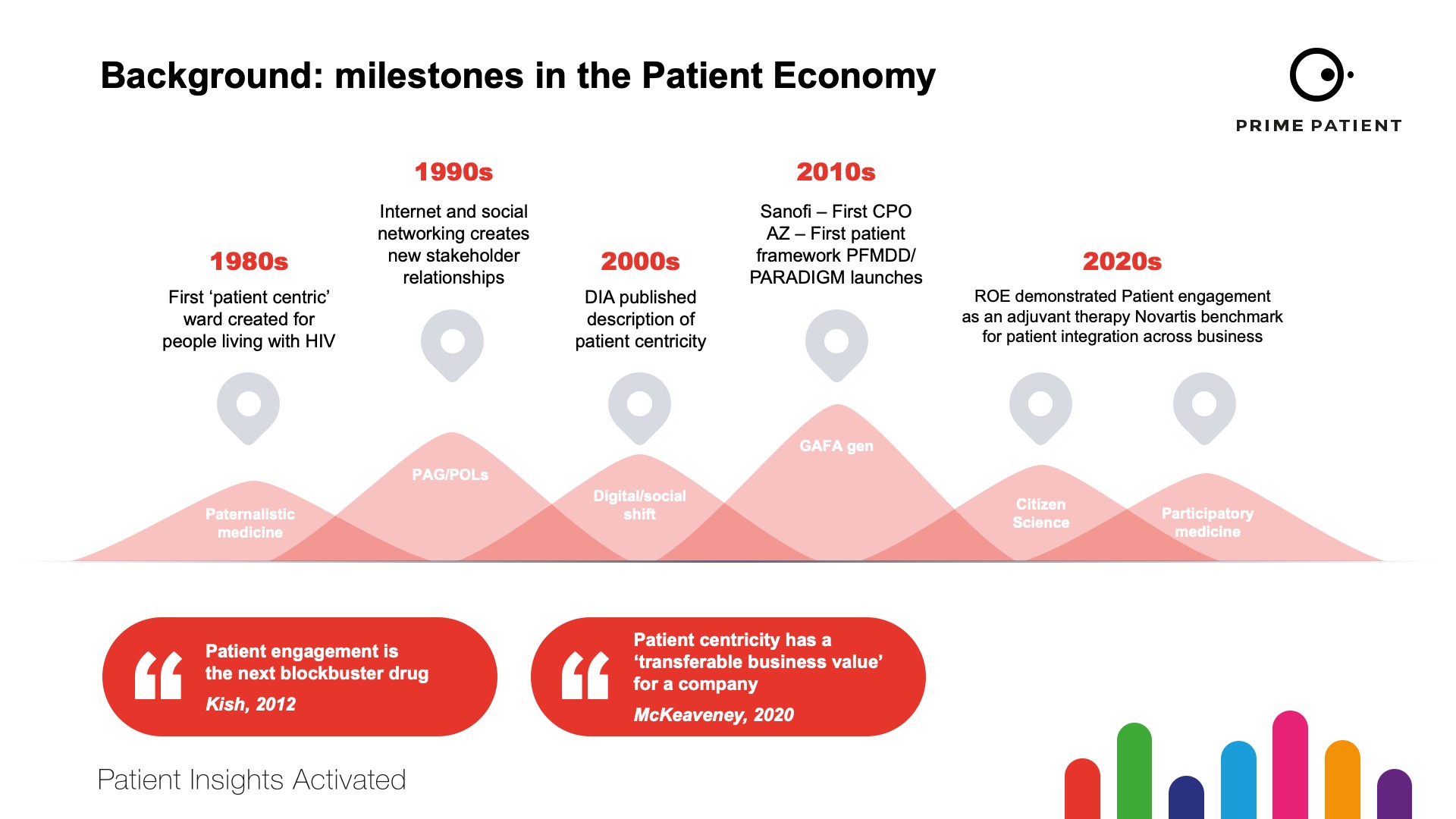 However, 2021 has been different. This may be due to the impact of the global pandemic promulgating companies and patient groups into finalising the practicalities of patient engagement from a 'nice to' to 'must do'.
Alternatively, it could be a response to criticism in academic literature about 'pharma influence on patient groups' that has rallied both parties to speak up about the benefits of collaboration. Whether it is logic or defence, 2021 has certainly been effective in establishing patient engagement as a business necessity.
Indeed, since launching Prime Patient in April, we've seen a remarkable response from pharmaceutical and biotech companies, as well as partnerships with patient advocacy groups and patient opinion leaders.
The 'sweet spot' for patient engagement includes a focus on co-creating essential patient practices that bring an asset through the pipeline more effectively by collaborating early and encouraging all parties to consider three key outcomes of patient engagement:
Awareness
Activation
Amplification
Our approach in 2021 has been to create events and to provide communication platforms that share examples of best practices. The 'PEP Talks' monthly e-newsletter has approaching 50 pharma companies as subscribers and the inaugural 'Patient Engagement Day' on September 01st achieved an inspirational number of downloads of toolkits for ways to 'Amplify the Patient Voice' as the launch theme. In addition, we created Patient Partnerships and highlighted that we 'pay' our Patient Board Members a fair market value that recognises their 'lived experience expertise' in consulting with us – with our pharma clients – to recommend strategies for enduring patient engagement. This is transparent and further elevates the practices of patient engagement into a sensible business code of conduct.
This illustrates another transformation – the attitude towards 'vendors'. As an 'agency' that generates insights services that bridge the relationships between patients and industry, we are in a unique position to ensure these practices are ethical and productive – ultimately delivering improved outcomes for patients, pharma and society.
We have deliberately conveyed this as the 'triple' win in every communication piece this year to highlight that patient engagement has a robust and demonstrable return on investment. This return ticks every box for every department in a pharma company and also improves efficiency and sustainability for every healthcare system (Figure 2).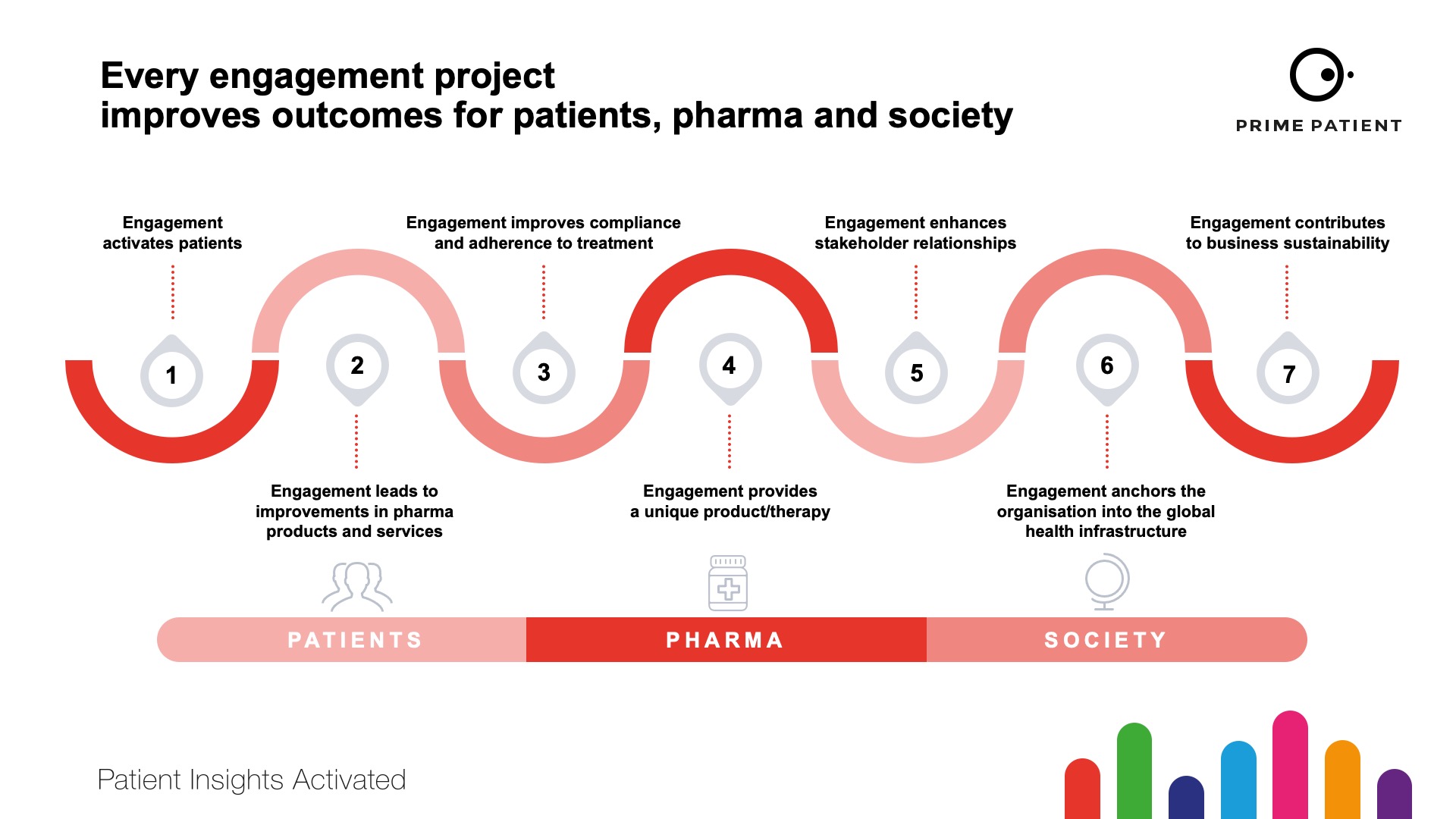 Critics may continue to question the 'spend' from pharma to patient groups, but they will be met with evidence that engagement that amplifies the patient voice in R&D and the value that returns is robust.
In the future, this 'voice-to-value' (V2V) concept will continue to grow and we will see routine 'V2V' data dossiers that shape patient engagement practices. Examples of 'V2V' practices are given in figure 3. It has been frustrating that for too long, medical communications agencies have been invisible in the contributions that they make towards overall improvements in healthcare systems.
That has now changed and will continue to change as agencies have built bespoke insights platforms and have very healthy relationships with patient groups that contribute positively to the shaping of insights-driven clinical trial design and patient engagement programmes that validate and generate 'V2V' data sets, including PROMS and PREMS that regulators require.
Within Prime Patient, we have experts in patient strategy, clinical trial recruitment and patient education who are asked for their recommendations on the future of patient engagement by our clients as standard (see summaries). Again, this highlights the attitudinal change towards validating the importance of independent patient agencies as equal stakeholders committed to continuously improving patient engagement practices.
As such, I'm hopeful that as we step into 2022, the massive changes that have been so productive in 2021 will continue towards an egalitarian environment for engagement.
Jon Hoggard
Head, Patient Education, Prime Patient
Recommendations for patient engagement and education
From selling pills to selling health
Patients are beginning to expect the providers of their medicines to help them with their condition and the impact on their lives. Will pharma listen, and is this even their role to do so?
Rise of the machines - big data, AI and machine learning
Companies will capitalise on tech advances in the areas of data use to inform R&D and/or provide personalised care to patients. For example, artificial intelligence (e.g., Sanofi's recent cancer AI deal with R&D platform Owkin), and machine learning (letting digital platforms provide personalised healthcare and training within medical education based on the preferences and habits of the user).
Remote healthcare and homecare
The pandemic has shown the need to improve homecare options for many disease areas. This has implications for pharma-run patient support programmes, access strategies, patient education, integration with local health systems and focus on the opportunity for simpler, more efficient patient care.
Olivia Kersey
Patient Strategist, Prime Patient
Recommendations for pharma-patient relationships
Rising to the transparency challenge
Increased expectation of engagement during COVID-19 will persist with trials and medical information discussed more commonly. Pharma will continue to focus on health/trial literacy and accessibility of patient education resources – notably innovating improvement in generating and publishing 'patient voice publications' as an evolution of the 'plain language summary'.
Moving beyond single projects to long-term partnerships
Longer-term relationships will encourage patient activation beyond tokenism. There will be more 'empowering patient' programmes.
Harmonising rare disease PAG insights
How we can (and when we should/should not) translate findings from rare disease PAGs to avoid asking the same questions unnecessarily will see a harmonisation of rare disease insights.
Ross Jackson
VP, Clinical Trial Recruitment
Recommendations for patient engagement in clinical trials
Engaging with patients prior to trial recruitment
Adopting a pre-recruitment strategy to engage with patients directly (e.g., through advertising for people to express interest in future trials) can help build an audience of potential trial participants that trial sponsors can the approach when they have a suitable trial available.This approach also makes a lot of sense in the area of rare disease, where there may not be a trial available at the moment, but once there is the prior engagement can speed up the recruitment process.
Ability to choose from different trials
To be truly patient-centric, there should be an element of choice as to which trial a patient can participate. Since the Covid-19 pandemic, there is greater awareness among the general public that clinical trials exist.Taking this further to make people aware of the full range of trials that are being conducted will provide greater choice for patients, which in turn will help with trial design by having the trials themselves become more patient-friendly to attract participants.
Patient-friendly initiatives
The drive for decentralisation will continue so there is less requirement to attend a specific research site, fewer travel and accommodation arrangements. Where decentralisation isn't an option, compensation for time and recognition of the input that patients have in the process will improve.In addition. the forthcoming requirement for mandated patient lay summaries provides an excellent opportunity to involve patients with the process of ensuring that trial information is available in a format that non-clinical people can understand. Going beyond simple assistance with the language used in a PLS, through having patients involved in the development of the publications, will help put the patient voice at the heart of clinical trials for better outcomes and reporting in the future.

About the author

Emma Sutcliffe is senior vice president, patient insights and solutions at Prime Global. Emma is one of the most broadly cited Patient Engagement Experts in the healthcare sector and has led award-winning patient engagement initiatives across many therapeutic areas. Emma's rare disease experience includes cystic fibrosis workshops for Vertex and originator of 'Painsolve', an award-winning research platform for 92 different pain pathologies. Emma is highly connected with patient groups, experts and clinical research group which makes her the ultimate bridge-builder between industry and patient networks to garner insights and increase the voice of the patient in the development of medicines.
About Prime Global
Prime Global are experts in medical communications, market access, patient insights, engagement, and recruitment. They help the world's leading biotech, pharma and healthcare companies to transform global health and patient outcomes, now and for future generations.