Topics Presented this February 2018 at RNA Therapeutics
Partner Content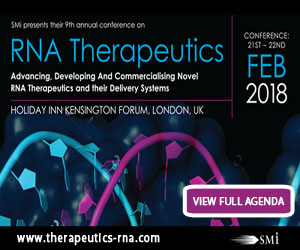 SMi's RNA Therapeutics will be bringing a global presence from MHRA, The RNA Institute, MiNA Therapeutics, AstraZeneca R&D, GSK, Sanofi, CureVac and more. With an agenda full of exciting and new approaches, examine the latest developments in delivery systems for RNA Therapeutics, including Exosomes, Nanocomplexes and Platform Delivery Approaches and patenting RNA Therapeutics. www.therapeutics-rna.com/phpr
Spotlight:
Want to learn about exploiting exosomes for therapeutic use in patients with cystic fibrosis?
Have questions answered during our two sessions presented by ProQR Therapeutics and University of Oxford.
Exploiting Exosomes for Therapeutic and Diagnostic Applications | Day 2 | @16:40
This presentation will examine the translational applications of exosome research, including biomarker discovery and drug delivery. The session will consider and evaluate of the important advantages compared to other nanoparticulate drug delivery systems and look at ways of overcoming potential problems with component characterization and immune reactions.
Presented by: Samir EL Andaloussi, Assistant Professor, Karolinska Institutet and Research Fellow, University of Oxford
RNA Therapeutics for Patients with Cystic Fibrosis: QR-010 and Beyond | Day 1 | @11:00
This session will explore the opportunities that RNA therapeutics may bring for patients with cystic fibrosis. The evidence for QR-010 as a meaningful RNA therapeutic for patients with cystic fibrosis will be discussed, looking specifically at the F508del mutation. Other mutations will also be explored while looking at RNA therapeutic approaches for patients with cystic fibrosis.
Presented by: Noreen Roth Henig, Chief Medical Officer, ProQR Therapeutics
PLUS...
- Hear from MiNA Therapeutics about their new pre-clinical data supporting the on-target mechanism of action of their pioneering new drug candidate MTL-CEBPA.
- Learn how CureVac's sophisticated technologies and approaches have helped overcome limitations such as the instability of single-stranded RNA.
- Discover STORM Therapeutics' innovative approach: Harnessing the power of RNA epigenetics to develop first-inclass drugs in oncology.
- Expand knowledge of patenting RNA Therapeutics, with James Ogle, a European and UK Chartered Patent Attorney with particular expertise in RNA and other nucleic acidbased technologies.
- Examine the latest developments in delivery systems for RNA Therapeutics, including Exosomes, Nanocomplexes and Platform Delivery Approaches.
For those looking to attend there is currently a £200 early-bird saving, ending November 30th.
Further information is available at: www.therapeutics-rna.com/phpr
SMi presents the 9th Annual Conference:
RNA Therapeutics
Date: 21st – 22nd February 2018
Location: Holiday Inn London - Kensington Forum
Website: www.therapeutics-rna.com/phpr
Sponsored by: ChemGenes | Phion Therapeutics
---end---
Contact Information:
For all media inquiries contact Pavan Solanki on Tel: +44 (0)20 7827 6048 / Email: psolanki@smi-online.co.uk
About SMi Group:
Established since 1993, the SMi Group is a global event-production company that specializes in Business-to-Business Conferences, Workshops, Masterclasses and online Communities. We create and deliver events in the Defence, Security, Energy, Utilities, Finance and Pharmaceutical industries. We pride ourselves on having access to the world's most forward-thinking opinion leaders and visionaries, allowing us to bring our communities together to Learn, Engage, Share and Network. More information can be found at http://www.smi-online.co.uk