Targeting Solid & Liquid Malignancies with the Same CAR
Partner Content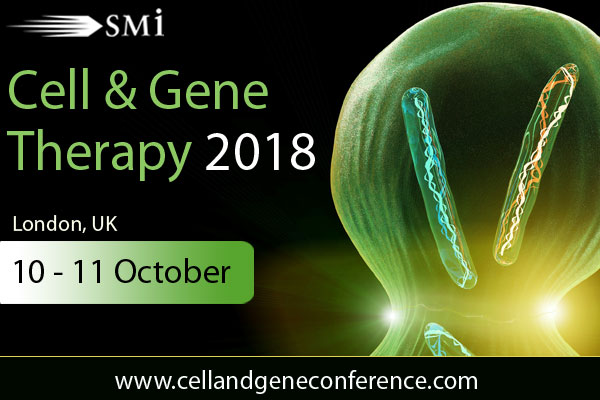 The Cell & Gene Therapy industry has been the most talked about department within R&D, with various technological advancements introduced to date. Hear about the latest developments of advanced therapy medicinal products (ATMPs) during the Cell & Gene Therapy 2018 conference taking place this October in the City of London, UK.
Latest News
CAR T Cells Show Solid Progress:
Finding (and hitting) the right target can be difficult. "The antigens that are present in solid tumours are usually expressed in other tissues of the body, or there is great heterogeneity," said Peggy Sotiropoulou, Celyad. "Consequently, the antigens are not expressed in all the tumour cells." She added that tumours that do express the antigens may reside in an immunosuppressive microenvironment, that is, an environment that can suppress the activity of CAR T cells.
To tackle these issues, Celyad engineered T cells expressing a CAR composed of the full-length human natural killer group 2D (NKG2D) receptor fused to a specific cytoplasmic signalling domain. As its name suggests, the NKG2D receptor is derived from natural killer cells. The signalling domain which is found in most antibody-based CARs, provides the primary stimulatory signal within the T cell when the NKG2D receptor binds to a ligand.
Targeting Solid & Liquid Malignancies with the Same CAR:
Peggy Sotiropoulou is R&D Manager at Celyad, in charge of developing the new strategies in CAR T cell design. Peggy is an expert in tumour initiation, growth and resistance to therapy, tumour microenvironment and cancer stem cells. She has a 17-year career in academic research in oncology, holding an associate Professor position in the Université Libre de Bruxelles, in Brussels, Belgium.
To hear more about this, join Peggy Sotiropoulou at the launch of Cell & Gene Therapy as she will be presenting 'Targeting solid and liquid malignancies with the same CAR'.
Presentation Details Below:
- What is an ideal target for CAR-T cell therapy?
- Challenges in targeting solid tumours using CAR T cells
- Autologous versus allogeneic CAR-T cells
SMi Group also had the opportunity to interview Peggy Soturopoulou regarding her experience within the industry and her talk this October.
Download the full interview online in the download centre
Further information is available at: www.cellandgeneconference.com/phpr
SMi Presents the Launch of:
Cell & Gene Therapy 2018
Date: 10th – 11th October 2018
Workshops: 9th October 21018
Location: Copthorne Tara Hotel, London UK
Website: www.cellandgeneconference.com/phpr
Source: genengnews.com
---end---
Contact Information:
For all media inquiries contact Pavan Solanki on Tel: +44 (0)20 7827 6048 / Email: psolanki@smi-online.co.uk
About SMi Group:
Established since 1993, the SMi Group is a global event-production company that specializes in Business-to-Business Conferences, Workshops, Masterclasses and online Communities. We create and deliver events in the Defence, Security, Energy, Utilities, Finance and Pharmaceutical industries. We pride ourselves on having access to the world's most forward-thinking opinion leaders and visionaries, allowing us to bring our communities together to Learn, Engage, Share and Network. More information can be found at http://www.smi-online.co.uk