SMi's Pharma Microbiology West Coast 2018 chair and speakers announced
Partner Content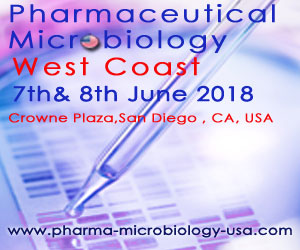 Pharmaceutical Microbiology West Coast is back after a successful launch event in 2017. This year the conference is taking place at the Crowne Plaza San Diego, CA, USA on June 7th and 8th, 2018.
SMi is pleased to announce the Chair for the 2-day conference
Ms. Ziva Abraham, CEO at Microrite.
Ziva has 25+ years of academic, research, clinical and industrial experience in microbiology and quality assurance. She received her master's degree in microbiology with a focus on mycology and has conducted research on developing microbial Insecticides using entomogenous bacteria and fungi for her PhD degree. At present she is the CEO and Founder of Microrite, Inc., a California based consulting firm providing consulting and training services to pharmaceuticals, biotechnology, medical devices and in vitro diagnostics in the areas of quality assurance, quality control, microbiology, and validation.
As well as chairing the 2-day conference, Ziva will also be doing a presentation on Underlying issues behind microbiological data deviations and data integrity on day one of the conference and co-hosting one of the two pre-conference workshops, details below.
SPEAKERS INCLUDE:
Lisa Yan, Principal Quality Lab Associate, Shire
Lisa received her Bachelor of Science in Biochemistry at UCLA and Doctorate of Philosophy degree at USC Keck School of Medicine in HPV and Prostate Cancer Immunotherapy. Within a year at being at Shire, she was given a new opportunity to be part of a center led team, Global QC/Microbiology, responsible for the development of a harmonized microbiology approach across the Shire network.
Lisa will be giving a presentation on the introduction to a Global Disinfectant Efficacy Study Approach
Ron Smith, Director External Supply Integration Quality, Janssen
Ron is responsible for providing quality oversight to External Manufacturers producing sterile Drug Product. Ron serves on J&J Sterility Leadership Team, the JSC ESIQ Extended Leadership Team, and the JSC Microbiology Review Committee. Ron is an advocate for the implementation of Rapid Microbiological Methods in PAT and has gained FDA and EMEA approval for the use of rapid-sterility tests, and real-time viable particulate samplers for the manufacture and release of drug products.
Ron will be presenting on the arising issues with environmental monitoring following the implementation of more advanced monitoring equipment
Elia Sanchez, Microbiology Site Head QC Sr Manager, Genentech
Elia has over 12 years of experience in Biotechnology Quality Control Laboratories. She is also a technical expertise in Method Transfers, Method Validations, New Product Introductions and Quality Systems such as Non-Conformance Investigations, CAPA and Change Control. Servant Leader, regulatory and compliance driven, as well as continuous improvement and Lean Six Sigma Expert.
Dr Sanchez studied a BS in Biology, a Master's Degree in Environmental Health and a PhD. in Environmental Microbiology at the University of Puerto Rico and the University of Medicine and Dentistry of New Jersey. She is experienced in leading multiple teams, implementing Rapid Microbial Test Methods and is an expert in Bacterial Endotoxin test methods.
Elia will be speaking on combining genetics with traditional methods to increase accuracy in microbial ID
David Hussong, Former Associate Director for New Drug Microbiology, FDA (Current Position: CTO, Eagle Analytical Services)
Dave earned his Ph.D. in microbiology from the University of Maryland at College Park (UMCP) and has also served as a research microbiologist at UMCP, the US Department of Agriculture and the US Naval Medical Research Institute.
He retired from the Commissioned Corps of the US Public Health Service after 30 years with the Food and Drug Administration (FDA). David is also currently the chair of the USP Microbiology Expert Committee for the 2015 – 2020 cycle.
David will be giving an update on the restructuring of the FDA inspection structure
Heidi Anderson, Principal Scientist, Abbott
Heidi Anderson is a scientist in microbiology and environmental monitoring, she began her career at Abbott and has continued to work there for 15+ years. She graduated from the University of Wisconsin with a degree in Medical Microbiology and Immunology and now specializes in testing, facility design, risk management, aseptic techniques and gowning for non-sterile or microbially controlled manufacturers. She has extensive experience with FDA inspections of non-sterile production facilities.
Heidi will be talking about the controversies and questions about non-sterile bioburden testing
For the full agenda and speaker line-up visit the website to download the brochure here - www.pharma-microbiology-usa.com/PR1
The event is CPD accredited.
Part of the conference there will also be two interactive half day pre-conference workshops taking place on June 6th, 2018
WORKSHOP A - 08:30AM – 12:30PM
A Practical Guide to "Risk Based Environmental Monitoring" that Addresses Real World Risk of Contamination Control
Leaders: Ziva Abraham, CEO, Microrite and Morgan Polen, Contamination Control & Cleanroom Expert, Microrite
WORKSHOP B - 1.30PM - 4.30PM
Technologies for Microbial Contamination Control
Leader: Andrew Bartko, Research Leader, Battelle Memorial Institute
If you would like to attend as a delegate at this event take full advantage of the exclusive special VIP offer at US$999* for the 2-day conference (standard price is at US$1999 - saving you US$1000)!
Open to the first 25 registrations, offer ends February 28th, 2018 (*subject to terms and conditions as stated below). Register online by clicking here www.pharma-microbiology-usa.com/PR1 or call Keiron on +44 (0) 207 827 6744.
* The exclusive VIP price is solely applicable to pharmaceutical, biopharmaceutical and biotechnology companies and subject to final approval by SMi Group. This special offer is available to new registrations only and valid to the first 25 registrations only until February 28th, 2018.
________________________________________
Sponsored by: Associates of Cape Cod Inc, Biomerieux, Charles River, Fujifilm Wako Chemicals US Corporation, MilliporeSigma and Roche.
Interested in sponsoring, exhibiting or speaking at this event?
Contact Alia Malick, Director, on +44 (0) 20 827 6168 or email amalick@smi-online.co.uk
________________________________________
For media enquiries, contact Simi Sapal on +44 (0) 20 7827 6162 or ssapal@smi-online.co.uk
Pharmaceutical Microbiology USA
7 - 8 June 2018
Crown Plaza San Diego, CA, USA
www.pharma-microbiology-usa.com/PR1
Contact e-mail: ssapal@smi-online.co.uk
Contact tel: +44 (0) 207 827 6162
#pharmamicrousa
---- END ----
About SMi Group: Established since 1993, the SMi Group is a global event-production company that specializes in Business-to-Business Conferences, Workshops, Masterclasses and online Communities. We create and deliver events in the Defence, Security, Energy, Utilities, Finance and Pharmaceutical industries. We pride ourselves on having access to the world's most forward-thinking opinion leaders and visionaries, allowing us to bring our communities together to Learn, Engage, Share and Network. More information can be found at http://www.smi-online.co.uk