SMi's Europe's Leading Ophthalmic Conference is only 2 weeks away
Partner Content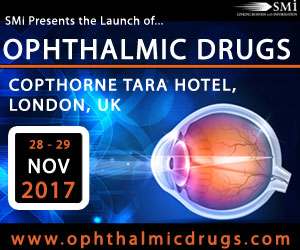 2 Weeks Left Until Europe's Leading Ophthalmic Conference
QUICK UPDATE: SMi's Ophthalmic Drugs will be taking place in JUST 2 WEEKS at the Copthorne Tara Hotel in London, Kensington UK. Network with top pharma companies are joining us including Boehringer Ingelheim, Bayer, Envisia Therapeutics, NightstaRx, Shire, Novaliq GmbH and more. www.ophthalmicdrugs.com/phpr
[NEW ATTENDEES] - Fresenius Kabi | Nanoptima | Nicox
[NEW SPEAKER] - We are delighted to welcome Sunil Shah, Professor/Director, Midland Eye Centre onto the programme!
With a global presence, this year's event will feature an exceptional line-up of keynote speakers from industry leading organisations. Ophthalmic Drugs arrives at the perfect time to discuss the latest approaches and strategies in key areas such as ocular diseases, drug delivery, pre-clinical and clinical trials, computer technologies and therapies for diabetic macular oedema.
Learn About:
- The unmet needs and management of presbyopia
- Processes and development of gene delivery technology for ocular drugs
- Clinical endpoints being explored now and in the future
- The application of emerging technologies
- The evolution of treatment options for patients with DMO
- Controlled trials of Lifitegrast and clinical results
- Non-invasive therapies for diabetic macular oedema
- The negative side effects of preservatives
Further information is available at: www.ophthalmicdrugs.com/phpr
For those looking to attend there are currently special rates available. Book online or get in touch.
SMi Presents the Launch of…
Ophthalmic Drugs
Date: 28th – 29th November 2017
Location: Kensington, London
Website: www.ophthalmicdrugs.com/phpr
Sponsored by: Leica Microsystems | Experimentica
---end---
Contact Information:
For all media inquiries contact Pavan Solanki on Tel: +44 (0)20 7827 6048 / Email: psolanki@smi-online.co.uk
About SMi Group:
Established since 1993, the SMi Group is a global event-production company that specializes in Business-to-Business Conferences, Workshops, Masterclasses and online Communities. We create and deliver events in the Defence, Security, Energy, Utilities, Finance and Pharmaceutical industries. We pride ourselves on having access to the world's most forward-thinking opinion leaders and visionaries, allowing us to bring our communities together to Learn, Engage, Share and Network. More information can be found at http://www.smi-online.co.uk