Personal Highlights – Microbiome Movement – Maternal & Infant Health Summit
Partner Content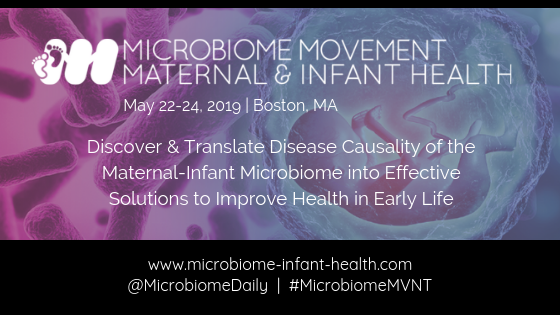 There is no question that the pre-, peri- and postnatal maternal-infant microbiomes are critical windows of opportunity, that need to be acted upon today.
With that, I wanted to drop you a personal note about the speakers I'm most excited to hear from at the 1st Microbiome Movement – Maternal & Infant Health Summit. See the full 3-day program here: https://ter.li/kd3uad
University of Manitoba – Meghan Azad is going to discuss how breastfeeding and human milk shape the infant gut microbiota and influence health trajectories based on her pivotal work on the CHILD cohort.
Infant Bacterial Therapeutics – Staffan Stromberg will share insights on preventing necrotizing enterocolitis in premature infants with IBT's drug candidate IBP-9414. As this therapeutic enters phase III trials in early 2019, I'm excited to hear about its progress through clinical testing.
You – The Mastermind Session at the end of day 1 will focus on establishing gold standards for study design investigating microbiome-based products in specific maternal and infant populations. I'm really excited for you to share perspectives on this as more products and therapeutics enter the clinical space. Notes from this session will be shared with attendees after the meeting.
Advance your career and join the pioneers who are unlocking the therapeutic potential of the maternal-infant microbiome and contribute to healthier clinical outcomes in the first 1000 days of life.