Patient Monitoring Devices Market will grow at 5% CAGR between 2019-2025
Partner Content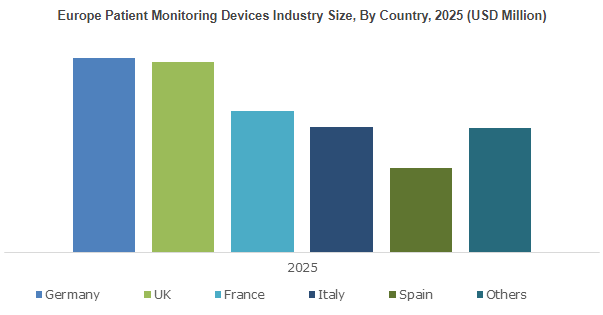 Rise in the number of patients suffering from critical diseases coupled with rapidly advancing technology will drive patient monitoring devices market size over the next few years. Monitoring devices accurately collect and display physiology data on a real-time basis, which is important for the doctors to take immediate and precise course of action. A surge in cardiac disorder patients and increased disposable incomes will push the demand for heart monitoring devices and expand the scope of medical technology sector.
Evolving digital technologies powering monitoring devices have influenced the operational costs and made them more effective. They have also reduced the need of hiring a permanent skilled staff member to interpret data for the customers. According to a research in University in Chicago, use of continuous glucose monitors (CGM) is extremely cost effective for adult patients suffering from Type 1 diabetes compared to just using test strips daily. The devices reportedly improve glucose control and result in reduced low blood sugar incidents, endorsing the products offered by patient monitoring devices market players.
Increasing prevalence of heart diseases among patients around the world will help bolster the demand for patient monitoring techniques. According to the American Heart Association (AHA), arrhythmias affect over 4 million patients in the U.S every year. In order to record and interpret the electrical activity of the heart, electrocardiography (ECG) is widely used in the hospitals to detect abnormal heart rhythms. The status of ECG machines have changed over time with the device moving to non-cardiology departments like electrophysiology labs, nursing and emergency departments as well as for respiratory therapy.
Several government initiatives across different countries will influence patient monitoring devices market outlook over the projected timeframe. For instance, India had introduced the Make in India campaign a few years back to bring in large number of investments into manufacturing and research sector. Investments are also being made into the healthcare segment, which will help boost the production and use of medical devices, including patient monitoring devices. A fast-growing startup space in the country, stimulated by the influx of capital, will encourage added research and development efforts towards building advanced healthcare technologies.
Wireless patient monitoring devices market is slated to register a CAGR of 5% over the forecast period, as the products help physicians examine several patients simultaneously and remotely. A professor at the Massachusetts Institute of Technology has developed a device called Emerald that analyzes the surrounding radio signals via machine learning algorithms. The device can extract several physiological metrics that are related to mobility, sleep stages, breathing, sleep apnea, gait and others. The innovation undoubtedly represents a widespread scope for monitoring devices in healthcare.
To access a sample copy of "Patient Monitoring Devices Market" report in detail along with the table of contents @ https://www.gminsights.com/request-sample/detail/4069
Development of wireless medical devices can apparently reduce the number of patients needed during clinical studies and shorten the lengths of trials involved. Moreover, it could help in reducing the repeated clinical site visits, lowering the direct costs to different pharma companies as well as the indirect cost that accrues owing to the recruitment difficulties, besides the expenditure on subject site visits. Substantial benefits offered for clinical stage companies and research facilities will lead to escalating adoption of such devices and propel patient monitoring devices industry share considerably.
Growing number of patients with acute diseases and a dramatic rise in the number of road accidents that require critical surgeries have increased the demand for anesthesia monitors. Anesthesia monitors are used during surgery to the track the vital signs of the patients like temperature and blood pressure while they are heavily sedated. Augmented deployment of anesthesia monitors in hospitals and ambulatory surgical centers will significantly thrust global patients monitoring devices market size.
According to the reports by the U.S. Centers for Disease Control & Prevention, chronic diseases account for close to 75% of the entire healthcare expenditure. Amongst the most prevalent diseases, chronic disorders are the costliest health conditions with over 45% of Americans suffering from various diseases in this category. Hospitals offer major benefits for the treatment of such diseases with the help of patient monitoring devices. With a large volume of patients every year needing surgeries and having continuous treatment regimens, U.S. patients monitoring devices industry will witness an exponential growth.
Change in lifestyle, increased consumption of junk food and lack of physical exercise has increased the occurrence of serious health conditions in North America, like endocrine disorders, high cholesterol levels and cardiovascular diseases. The region will prove to be a lucrative target market for monitoring device manufacturers due to a massive healthcare expenditure and favorable health insurance policies. In fact, North America patient monitoring devices market size is slated to grow by more than 4% over the project years.