Over 20 presentations on developments in the field of analgesic medicine
Partner Content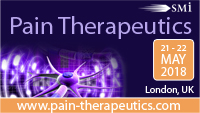 SMi Group reports: Pain Therapeutics conference is a one-stop shop to discover all of the cutting-edge news, updates and case-studies regarding developments in the field of analgesic medicine
Pain Therapeutics conference (21 - 22 May 2018, London, UK) is well-established event and is represented by an international audience. Current regional breakdown of attending organisations is at:
UK and Europe - 68%, North America - 19%, Asia - 11%.
Participants representing: Belgium, Canada, Denmark, Finland, France, Germany, Japan, South Korea, Switzerland, United Kingdom, USA
As a guideline for this year's event SMi Group have planned a programme which moves away from the well discussed opioid receptors, and focuses on the most exciting current research, opinions, novel targets and mechanisms and advances in the field of analgesic medicine.
In a recent announcement Grünenthal stated that they are collaborating with KU Leuven to develop an innovative, non-opioid pain treatment*.
Pain Therapeutics conference this May in London will be featuring the expertise of Mark Field, Senior Vice President, Head Innovation Unit Pain of Grunenthal GmbH. Mark will be presenting on the industry perspective from Grunenthal. Closer look will be on: Approaching pain as a disease – not just a symptom; Mapping the landscape of pain; Using a target-to-disease approach to identify novel compounds for development
Also, in the programme hands on training through exclusive post-conference workshops taking place on 23 May:
How should the likely future pain therapeutic landscape inform current drug development (Prescient Healthcare Group);
Clinical, regulatory and market access aspects in the development of medicinal products intended for the treatment of pain in Europe and USA (Pharma Design)
'In my ten plus years in the analgesic field I have not seen this type of conversation [workshop topics] facilitated in such a way before, and I expect it to result in some truly thought-provoking, productive discussions' - Kerrie Brady, Centrexion Therapeutics Corp
For further information visit http://www.pain-therapeutics.co.uk/pharmaphorum
CONTACT:
+44 (0)20 7827 6000
Twitter - @SMIpharm & #smipaintherapeutics
LinkedIn - SMi Pharma
-------------------------------------------------------------------------------------------------------------
Pain Therapeutics Conference | 21 - 22 May 2018 | London, UK
http://www.pain-therapeutics.co.uk/pharmaphorum
-------------------------------------------------------------------------------------------------------------