Official Invitation from Chair of RNA Therapeutics 2019 Conference in London
Partner Content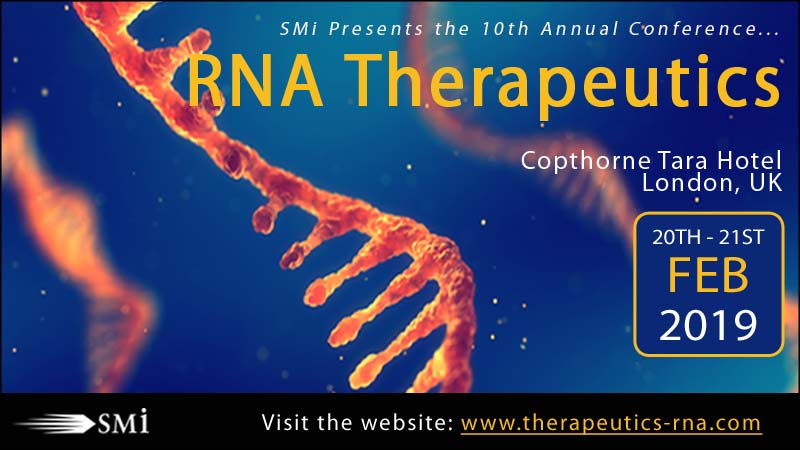 SMi's 10th annual RNA Therapeutics Conference is set to take place next year in London, UK on the 20th and 21st February (http://www.therapeutics-rna.com/pharpharpr
). The two-day conference will provide delegates with the unrivalled learning opportunity of hearing from internationally renowned experts providing their vast expertise and experiences in the ever-evolving field of RNA therapeutics.
This year's Chair has been announced as Ekkehard Leberer, Senior Director at Sanofi-Aventis Deutschland GmbH, who will be opening and closing the conference, as well as giving a presentation of his own on day two.
Dr Leberer is currently responsible for R&D Alliance Management at Sanofi, and is the Scientific Managing Director of the Innovative Medicine Initiative COMPACT Consortium on the delivery of biopharmaceuticals across biological barriers and cellular membranes.
He joined Hoechst Marion Roussel in 1998 and carried out various managing roles there, in Sanofi's predecessor companies and Sanofi itself, and has also served as Head of Biotechnology Germany and a member of the Scientific Review Committee of Aventis Pharma Germany.
Dr Leberer also served as Senior Research Officer in genetics and genomics at the Biotechnology Research Institute, National Research Council of Canada. His research focused on the molecular mechanisms of signal transduction and the role of signalling molecules in human diseases. He is also the principal discoverer of the p21 activated protein kinase family of cell signalling proteins and of novel virulence-inducing genes in pathogenic fungi.
SNAPSHOT OF CHAIR'S LETTER OF INVITATION:
"I am Ekkehard Leberer, Senior Director of Alliance Management at Sanofi-Aventis Deutschland GmbH. I am delighted to be Chairing the first day of SMi's 10th annual RNA therapeutics conference in February in London.
This year brings together industry experts from leading RNA therapeutics companies to discuss the challenges for clinical translation of RNA-based therapeutics, with an emphasis on recent advances in delivery technologies, and present an overview of the applications of RNA-based drugs for modulation of gene and protein expression, and genome editing. The event will build an understanding of innovations across the field and their potential impact on the field.
The conference includes sessions that will examine key challenges faced by the sector. These include how to address and improve issues related to; new regulatory requirements, data management and modelling, and a reducing the time needed for pre-clinical testing."
The full letter of invitation is now available on the event website, where the latest brochure, speaker-line up and other exclusive content is available to download. Register your place by 30th November to save £200 at:
http://www.therapeutics-rna.com/pharpharpr
10th Annual RNA Therapeutics Conference
20th – 21st February 2019
London, UK
---END---
About SMi Group:
Established since 1993, the SMi Group is a global event-production company that specializes in Business-to-Business Conferences, Workshops, Masterclasses and online Communities. We create and deliver events in the Defence, Security, Energy, Utilities, Finance and Pharmaceutical industries. We pride ourselves on having access to the world's most forward-thinking opinion leaders and visionaries, allowing us to bring our communities together to Learn, Engage, Share and Network. More information can be found at http://www.smi-online.co.uk