North American Prefilled Syringes Market to achieve 10% CAGR up to 2025
Partner Content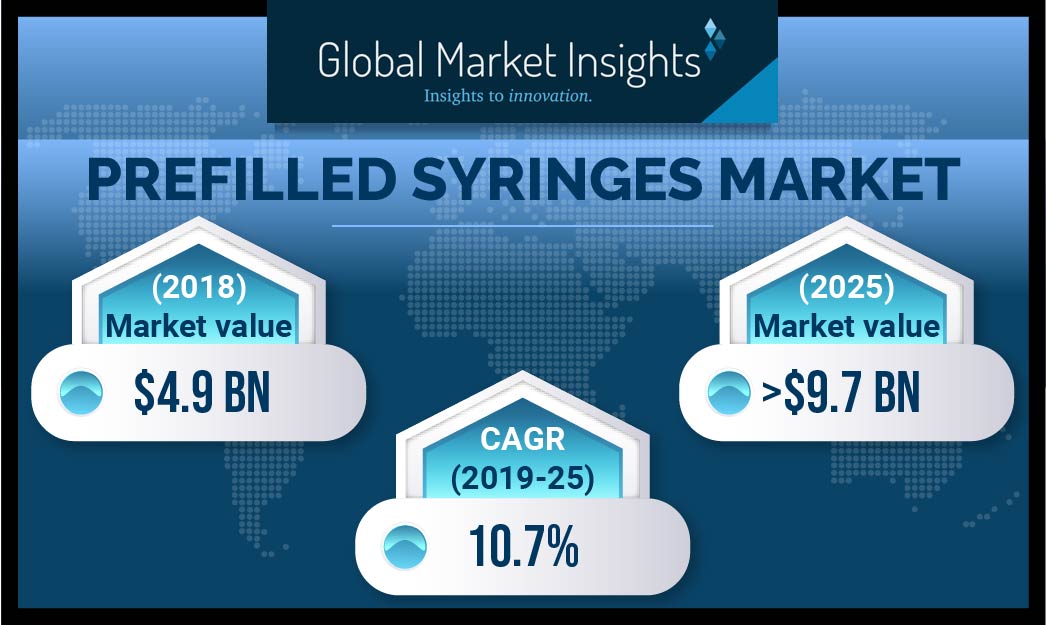 Asia Pacific prefilled syringes market is set to witness around 12% growth over the forecast timeframe. Presence of abundant patient pool suffering from chronic conditions such as diabetes, anaphylaxis, rheumatoid arthritis, etc. will prove beneficial for regional growth. Moreover, rising government expenditure on healthcare domain will encourage industry players to develop innovative solutions benefiting the regional prefilled syringes industry growth.
Antithrombotic/thrombolytic therapy segment accounted for more than USD 500 million in 2018 and it is anticipated to witness robust growth over the forecast period. In antithrombotic/thrombolytic disorder, thrombus or clots blocks the smooth blood flow. Anticoagulant medications comprising of fibrin and platelet are in liquid form and often administered as an injection shot. Prepopulated syringes are increasingly being used for antithrombotic therapy that should accelerate the segment growth.
To access a sample copy of "Prefilled Syringes Market" report in detail along with the table of contents @ https://www.gminsights.com/request-sample/detail/1968
Dual-chamber segment of prefilled syringes market is anticipated to witness around 12.5% CAGR throughout the analysis timeframe. Dual-chamber prefilled syringes are used for packaging of lyophilized solvent and liquid drugs to achieve homogenization and mixing of ingredients prior to administration. Dual-chamber prefilled syringe design has multiple bypass channels that enables user to sequentially inject both the solvent as well as liquid solution. These benefits of dual-chamber design will augment its demand, thereby fueling segment growth.
Plastic segment accounted for more than USD 1.3 billion in 2018 and it is anticipated to witness lucrative growth from 2019 to 2025. Substantial growth is attributed to compatibility associated with plastic material used for prefilled syringe manufacturing. Plastic eliminates the maintenance issue and is compatible with wide range of drugs. It shows minimum interference with molecular structure of biologics in the preloaded syringe. These properties make plastic appropriate material for prefilled syringes that will exceed segment growth.
Anaphylaxis segment accounted for more than 18% revenue share in 2018 and it is anticipated to witness robust growth in analysis timeframe. Increasing incidences of anaphylaxis across the globe will prove beneficial for the segment growth. Anaphylaxis is life-threatening allergic reaction triggered due to certain medications, foods or venoms. It causes low blood pressures, dizziness or nausea. Prefilled syringes are cost effective alternative to existing auto-injectors for anaphylaxis treatment. These syringes prevent negative drug reactions and enhance clinical outcomes. Rising incidences of anaphylaxis will augment demand for prefilled syringes, thereby propelling segment growth.
Notable industry players operational in the prefilled syringes market include Becton Dickinson (BD), Weigao, OMPI, Novartis, Mylan, Fresenius Kabi, Gerresheimer, Catalent, Medpro, Stevanato Group, SCHOTT, and Nipro.
World Prefilled Syringes Market is set to surpass USD 9.7 billion by 2025, published by Global Market Insights, Inc. Growing incidences of diabetes and rheumatoid arthritis across the globe will render a significant positive impact on prefilled syringes industry growth. Diabetes and rheumatoid arthritis patients frequently require medications through injection.
Growing adoption of biosimilars in developed regions will prove beneficial for prefilled syringes market growth over the forecast period. Biosimilars are the cost effective way of treating chronic diseases such as cancer that has increased its popularity over the last few years.