In-vitro Diagnostics Market profiled Qiagen, Becton Dickinson, Grifols & BioMerieux by 2025
Partner Content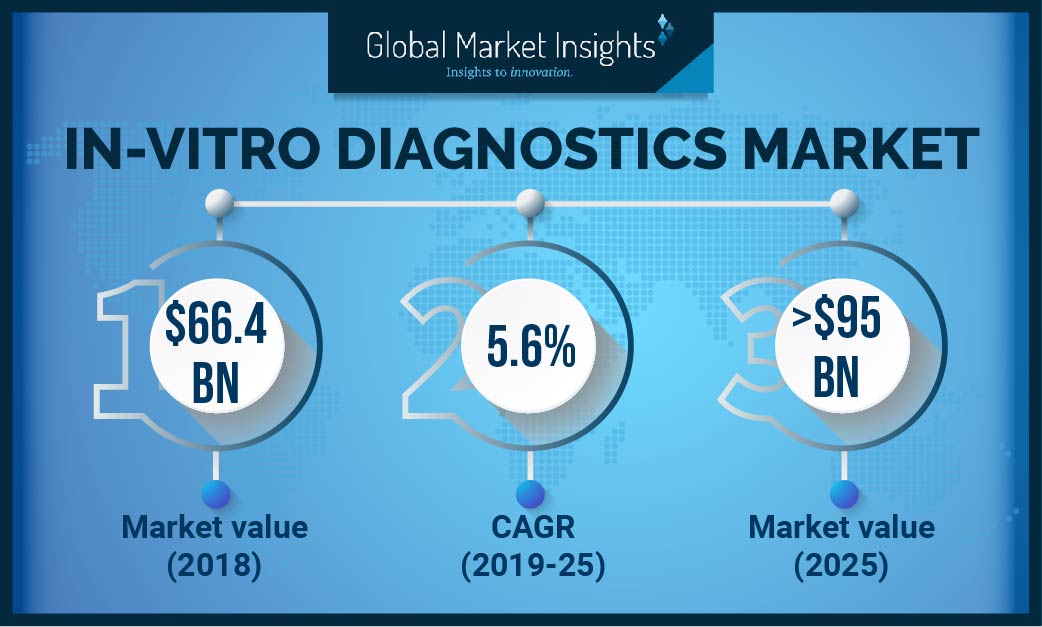 Some of the key players operating in the in-vitro diagnostics market are Becton Dickinson, Abbott, Johnson & Johnson, BioRad, Luminex, Thermo Fisher Scientific, LivaNova, BioMerieux, Cephied, Danaher, Roche Diagnostics, Siemens, Grifols, and Qiagen.
Europe in-vitro diagnostics market held more than 20% revenue share in 2018 and it is anticipated to witness significant growth in forthcoming future. Increasing number of baby boomers in the region will augment demand for in-vitro diagnostics for detection of various ailments. Also, availability of technologically advanced instruments such as clinical chemistry, blood gas analysis, etc for accurate diagnosis will favor regional growth over the analysis timeframe.
Academic institutes segment of IVD market is anticipated to witness more than 6% growth over the analysis timeframe. Increasing research and development activities for developing better quality drugs for diseases such as TB, malaria, HIV, HPV, hepatitis and syphilis infections will escalate demand for IVD. Moreover, extended use of in-vitro diagnostics in the process of drug discovery has augmented its demand in academic institutes that will boost segment growth in near future.
Diabetes segment held around USD 10 billion revenue in 2018 and it will grow enormously over the analysis timeframe. Diabetes is one of the major risk factors for kidney failure, blindness, strokes, heart attacks and amputation of lower limbs. Thus, government and industry players are undertaking several initiatives such as conducting campaigns to make people aware regarding benefits of early diagnosis. Thus, increasing awareness amongst people and rising cases of diabetes will surge demand for in-vitro diagnostics in forthcoming future.
Molecular diagnostics segment is anticipated to witness more than 7% CAGR over the analysis timeframe. Substantial growth can be attributed to increasing demand for superior quality diagnostics for detecting rare and chronic conditions. Molecular diagnostics provide accurate, sensitive results and has quick turnaround time that enhances overall clinical outcomes. Furthermore, growing disease burden across the globe will influence demand for molecular diagnostics thereby, augmenting segment growth in near future.
Services segment of in-vitro diagnostics market was valued around USD 47 billion in 2018 and it is anticipated to grow significantly over the forecast period. Surging requirement for software in diagnostic testing services by healthcare professionals to screen chronic disorders will boost segment growth over the forecast period. Additionally, rising utilization of currently developed software to manage patient?s data will enable accurate diagnosis thereby, fueling segment growth.
To access a sample copy of "In-vitro Diagnostics Market" report in detail along with the table of contents @ https://www.gminsights.com/request-sample/detail/2820
World In-vitro Diagnostics Market revenue is poised to cross USD 95 billion by 2025. Rising preference towards personalized medicines for treatment of several chronic diseases will accelerate demand for in-vitro diagnostics in forthcoming future. Advantages of personalized medicines such as optimum dosage delivery, target and accurate treatment will rise preference towards it. Thus, demand for IVD will substantially grow to develop new therapies for treating chronic disorders. However, high cost of in-vitro diagnostic services may hinder market growth to certain extent.
Increasing number of pathology labs equipped with advanced diagnostics machine will prove beneficial for in-vitro diagnostics market growth in near future. Now a days, pathology labs are incorporating latest technology instruments to provide superior quality services to patients. Moreover, advanced technology enables in detection of several diseases before their onset. This in turn enhances overall clinical outcome that will prevent further complications. As a result, growing number of laboratories incorporating technologically advanced machines will augment in-vitro diagnostics industry growth over the forecast period.