Hear the Keynote Addresses from MedImmune and Spirogen this April
Partner Content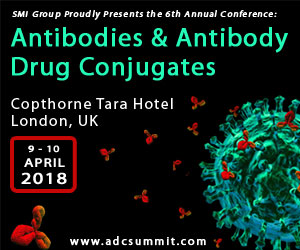 Hear the Keynote Addresses from MedImmune and Spirogen this April at SMi's ADC Conference
Learn more about:
- The implementation of superior technologies to develop more effective and targeted ADCs.
- New and novel payloads, e.g. Antibody Targeted Amanitin Conjugates (ATACs), to improve efficiencies of ADCs.
- Using minor-groove binding DNA-interactive molecules as ADC payloads.
- The practicalities of the use of Highly Potent Active Pharmaceutical Ingredients within ADC development.
- Using fragment drug conjugates to develop a more tailored therapy for solid tumours.
- Design principles for maximising the drug delivery efficiency and therapeutic index.
Day 1: Compare new generation HER-2 ADCs with Kadcyla™, examine technological advancements on PK-PD, highly potent ingredients, adc payloads and explore drug designs for ADCs; whilst Day 2 takes a look at fragmented drug conjugates and therapeutic windows, warheads and site selectivity, immune-oncological combination therapies, and design principles for maximising drug delivery.
Day 1 Keynote Address: PBDs - Update on an Efficient & Effective Payload Class:
Hear from Spirogen as they discuss one of the main aspects of ADCs; payloads, advanced methods of characterisation will be extremely important as this class of biologics (ADC payloads) is translated to industrial-scale production. Whether or not PBDs make better payloads than others, the clinical progress and current uses of PBDs with case study examples and new PBD payloads in developments; consequences on mode of action, efficacy and tolerability. PBDs are a class of DNA-crosslinking agents, they are significantly more potent than systemic chemotherapeutic drugs. Benefit from Arnaud Tiberghien, Scientist II, Chemistry, Spirogen who will explain the challenges and the significance of PBD payloads.
Presented to you by: Arnaud Tiberghien, Scientist II, Chemistry, Spirogen
Day 2 Keynote Address: Guided Warhead Loaded Missiles of ADCs in Fight Against Deadly Cancers: Challenges and Opportunities:
Current antibody-drug conjugates in development have immense promise, but they are limited by the fact that they are structurally heterogeneous populations in which the position and number of conjugated linkers and warheads vary significantly. MedImmune will explore the target, linker, warhead selection: Do's and Don'ts; five rights of creation of the best optimized fit-for-purpose ADCs; internalisation of ADCs – how to improve internalisation, lysosomal delivery and intracellular target hit and increasing the effectiveness of the ADCs by effective tumour targeting minimising the off-target toxicity of ADCs.
Presented to you by: Rakesh Dixit, Vice President, R&D, Global Head, Biologics Safety Assessment, MedImmune Inc
Further information is available at: www.adcsummit.com/phpr
SMi presents the 6th Annual Conference:
ADC Summit
Date: 9th – 10th April 2018
Location: Copthorne Tara Hotel, London UK
Website: www.adcsummit.com/phpr
---end---
Contact Information:
For all media inquiries contact Pavan Solanki on Tel: +44 (0)20 7827 6048 / Email: psolanki@smi-online.co.uk
About SMi Group:
Established since 1993, the SMi Group is a global event-production company that specializes in Business-to-Business Conferences, Workshops, Masterclasses and online Communities. We create and deliver events in the Defence, Security, Energy, Utilities, Finance and Pharmaceutical industries. We pride ourselves on having access to the world's most forward-thinking opinion leaders and visionaries, allowing us to bring our communities together to Learn, Engage, Share and Network. More information can be found at http://www.smi-online.co.uk