Health Insurance Market will cross USD 1,500 Billion by 2025
Partner Content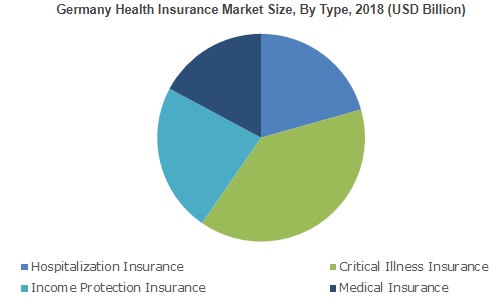 North America health insurance market accounted for more than 30% revenue share in 2018 owing to presence of numerous providers coupled with growing prevalence of chronic diseases. Moreover, insurance providers formulate various policies for minimizing the healthcare expenditure that should propel regional growth over the coming years.
Term insurance segment was valued more than USD 855 billion in 2018. These policies have lower initial cost as compared to premium life insurance schemes. It provides ample amount of coverage at correct time for families with financial crises. Such polices are fully designed for financial needs when required in circumstances. These factors help to gain more segmental revenue.
Adult segment of health insurance market accounted for over 55% revenue share in 2018 and is expected to experience significant growth over the coming years owing to high risk of chronic diseases among adults. Change in lifestyle is the major concern in adults thus, increases risk of acquiring new diseases. Moreover, the population is inclined towards chronic diseases and other cardiac diseases that requires hospitalization. To minimize health risk and health expenses, adults opt for various life insurance schemes to avoid financial instability. Such factors render positive impact on segmental growth.
Preferred Provider Organization (PPO) segment held over USD 200 billion revenue in 2018 and will witness robust growth during the analysis timeframe. Segment growth is attributed to low cost of the insurance plans offered by PPO. PPOs allow easy access to benefits of the scheme and individuals are also assigned with primary healthcare professional that reduces hospital visits for minor health issues. Above mentioned factors propels the segmental growth.
Private segment of health insurance market was valued at over USD 530 billion in 2018 and will witness robust growth. It provides economic support to patients receiving treatment from quaternary, tertiary and secondary healthcare institutions. Moreover, private insurance plans also aims for imparting greater flexibility to customer for choosing doctors and treatments. Aforementioned factors will foster segmental growth over the coming years.
To access a sample copy of "Health Insurance Market" report in detail along with the table of contents @ https://www.gminsights.com/request-sample/detail/3146
Senior citizens segment of health insurance market will grow over 2% during the forecast timeline. Majority of geriatric population suffers from chronic diseases. Since, most of elderly people are dependent, they usually cannot afford expensive treatments. Therefore, increasing adoption of cost-effective public healthcare plans providing reimbursement on various procedures for elderly people that elevates the business growth.
Health maintenance organization (HMO) segment of health insurance market will grow around 4% during the forecast timeline. Tremendous benefits of care and minimum cash premiums will facilitate segment growth in coming years. Moreover, modest health maintenance organization plans for families with lower expenses are factors that will further accelerate the demand for HMO.
Hospitalization insurance segment held more than 20% revenue share in 2018 and will witness robust growth during the analysis timeframe. Availability of reimbursement plans for an individual member as well as family health insurance schemes are expected foster the segmental growth. Moreover, daily cash benefits plans surges the demand for health insurance that will further enhance business growth.
Global Health Insurance Market revenue is set to reach over USD 1,500 billion by 2025; according to a new research report by Global Market Insights, Inc. Several government initiatives for providing people with effective health insurance policies in developing economies should foster business growth. For instance, National health insurance schemes such as Rashtriya Swasthiya Bima Yojana (RSBY) initiated by government of India provides benefits for the population below poverty line (BPL) that suppresses cost associated with hospitalization. Additionally, recently developed health insurance plans focus on offering coverage to BPL households in an economical manner such factors stimulate business growth. However, poor claim settlement track record system may create complications and restrict the industry growth.