Cell and Gene Therapy Manufacturing Forum
Events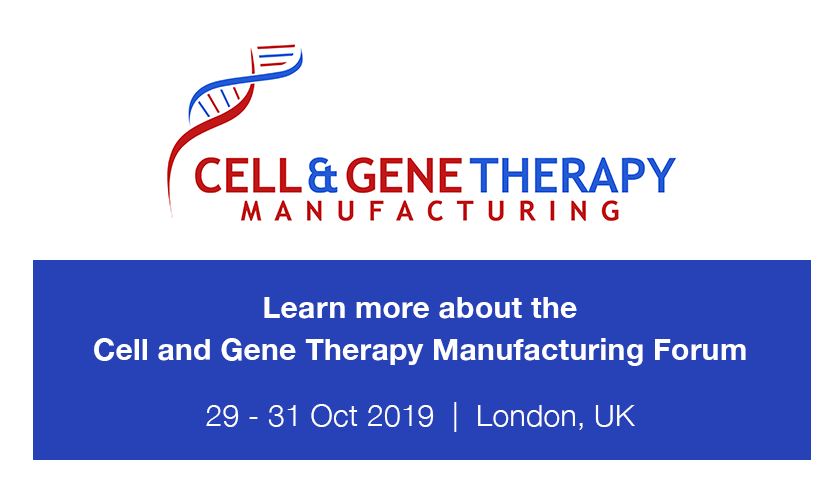 Last year we told you that the cell and gene industry would be worth $9 - $14 billion by 2026. We were wrong. According to current market growth rates the industry will surpass $35 billion by 2026 and we want to know how your company is capitalising on this.
New market conditions, lack of established development pathways and constantly evolving global regulatory requirements make the efficient manufacture of cell and gene therapies a challenging undertaking for any company.
We understand that these challenges require industry specific strategies, so we are bringing leading experts from the likes of the MHRA, BlueRock Therapeutics, Orchard Therapeutics, Celyad and Novo Nordisk at this year's Cell and Gene Therapy Manufacturing Forum, to identify key strategies that will transform your manufacturing capabilities in the move towards commercialisation.
Click here to view the event
With the likes of Kymriah and Yescarta making headlines over the last 12 months for their US and EU approvals, the cell and gene therapy market continues to grow in size, value and potential.
From curing cancer to addressing ultra rare diseases, our industry's innovators and experts have turned to ATMP-based therapies as a means of transforming the treatment landscape, and offering life saving treatments to those in critical need.
With a growing number of novel therapies continuing to progress towards commercialisation, and increased pressures on process scalability and regulatory compliance, manufacturing ATMP-based products requires a highly specialised and technical approach.
Given the unique challenges in the CGT manufacturing environment, we know that the industry needs an equally unique and focused forum so you can benchmark your processes against the market, implement process innovation and drive your product from manufacture to market.
That's why the 2019 Cell and Gene Therapy Manufacturing Forum is our biggest yet. With content from over 18 industry leaders, this year will deliver more industry insights, more expert guidance and more
networking so you can leave with practical steps to ensure your manufacturing capabilities are efficient, compliant and commercial.
Attend this conference to:
Join a curated programme taking you from translation and collaboration to ensuring GMP compliance and optimising scalability - this year's forum is your one-stop shop for building manufacturing capabilities that are compliant, efficient and commercial
Engage in our GMP compliance training day to ensure that your process development optimisation does not come at the cost of process compliance
Hear from 18+ industry experts to benchmark your manufacturing practices and take home industry leading solutions
Optimise your manufacturing process from end-to-end with topics covering every stage of the manufacturing process
Plan for your transition towards manufacturing at scale to ensure that your next therapy is market ready
Plus much more.
Start Date: 29 October 2019
End date: 31 October 2019
Venue: London, UK
Address: London, UK
Town/City: London
Postal/Zip Code:
Country: UK
Contact: Emily Shirrefs
Organiser Name: Pharma IQ
Email: enquire@iqpc.co.ukginger007
Telephone: 44 (0) 207 036 1300
Click here to view the event