Discover the Future of Pharmaceutical Technology Within Lyophilisation
Partner Content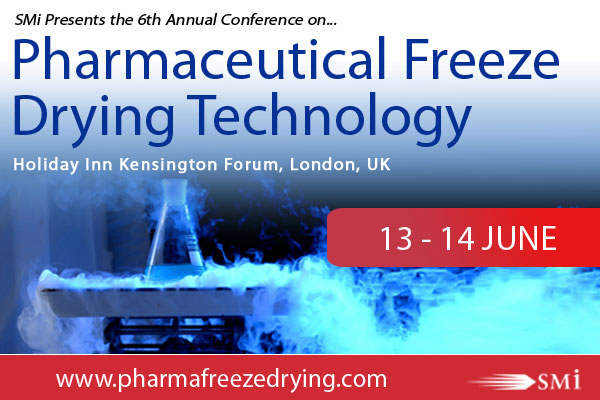 This is a reminder to let you know that the 6th annual conference; Pharmaceutical Freeze Drying Technology will be taking place in just 3 weeks! Have you secured your place to attend? If not, take advantage of the manager's special rate, plus the early-bird discount online.
The highly anticipated 3-day conference will gather the growing freeze drying community, filled with industry thought leaders and drug development experts involved in: formulation technology, QbD, manufacturing, PAT, R&D and pharmaceutical process development.
The Agenda: A packed programme featuring the best speaker line-up to date
Hear from a global panel of over 16 speakers to strengthen knowledge in key topics such as PAT and QbD, whilst staying at the forefront of new pharmaceutical technologies to adapt to growing drug production demands.
Hear case studies from:
- NIBSC - MHRA, and gain exposure to regulatory guidelines, and explore dynamic and existing technologies to optimise freeze drying cycles.
- GSK, to explore examples of stability evaluation using water activity measurement and mathematical modelling, to evaluate the stability of freeze-dried vaccines.
- Boehringer-Ingelheim to understand the core essentials of biologics in the freeze drying process.
- Janssen, who will be discussing QbD strategies including the timing/conditions, and typical sources of variation for lyophilization and spray drying processes.
- University of Kentucky, to examine the errors and challenges associated with predicted stability value, and the tools used.
+ many more!
PLUS... TWO INTERACTIVE WORKSHOPS:
Workshops hosted by: NIBSC - MHRA | University of Central Lancaster | Biopharma Process Systems. More details available online.
There is currently a manager's special discount available online, plus additional early bird discounts. Book online today: www.pharmafreezedrying.com/phpr
SMi presents the 6th annual conference:
Pharmaceutical Freeze Drying Technology
Date: 13th – 14th June 2018
Workshops: 12th June 2018
Location: Holiday Inn Kensington Forum, London UK
Website: www.pharmafreezedrying.com/phpr
Sponsored by: Nextaro
---end---
Contact Information:
For all media inquiries contact Pav Solanki on Tel: +44 (0)20 7827 6048 / Email: psolanki@smi-online.co.uk
About SMi Group:
Established since 1993, the SMi Group is a global event-production company that specializes in Business-to-Business Conferences, Workshops, Masterclasses and online Communities. We create and deliver events in the Defence, Security, Energy, Utilities, Finance and Pharmaceutical industries. We pride ourselves on having access to the world's most forward-thinking opinion leaders and visionaries, allowing us to bring our communities together to Learn, Engage, Share and Network. More information can be found at http://www.smi-online.co.uk