Combating Antifungal Resistance to be discussed at Superbugs & Superdrugs Conference
Partner Content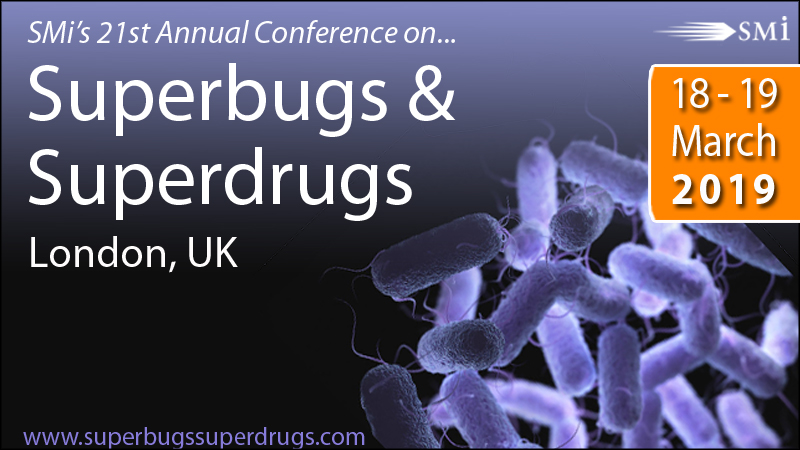 SMi Reports: Superbugs & Superdrugs conference co-chairs have released a letter of invitation for the 21st annual event, taking place on 18th-19th March 2019 in London.
In just under 6 weeks, SMi's 21st Annual Superbugs & Superdrugs Conference will open its doors to big pharmas, academics, and the wider scientific community to explore the challenges and potential solutions to the increasing threat of antibiotic resistance.
This year's two-day event will provide industry professionals with an in-depth knowledge of the scientific, economic, and regulatory challenges facing the industry.
Attendees will be able to hear from an international gathering of expert speakers sharing their valuable perspectives and experiences in the latest developments in antimicrobial research, novel antifungal agents, funding and regulations, and more.
SMi Group are delighted to welcome a new expert speaker to this year's conference; Dr Fiona Rudkin, CEO of Myobiologics, who will be presenting on "Immunotherapeutics to Treat Life-Threatening Fungal Infections".
The 2019 conference is set to explore tactics to fight the growing threat of antifungal resistance with industry leaders Meiji Seika Pharma, SCYNEXIS, and Blueberry Therapeutics.
Excessive use of antifungal agents, coupled with fewer new drugs being developed, is contributing to the accumulation of currently under-recognised multidrug-resistant fungi.
The largely neglected issue is threatening human health, as well as global food security, and without intervention can become extremely difficult to combat in the future.
Kazunori Maebashi, Senior Project Manager at Meiji Seika Pharma will be presenting on "The Development of ME1111 at Meiji Seika", focusing on a novel class of antifungal agent which is under clinical development as a topical onychomycosis treatment.
Fungal diseases are a major public health issue with high mortality rates and limited treatment options. This year's Superbugs & Superdrugs event will address this issue with a series of in-depth presentations from senior experts including David Cook, Chief Scientific Officer at Blueberry Therapeutics speaking about "Developing New Therapies for Fungal Infection", as well as Stephen Barat, Head of Pre-Clinical & Early Clinical Development at SCYNEXIS speaking about "Activity of Ibrexafungerp in Murine Models of Pneumocystis Pneumonia"
In addition, there are two interactive workshops on 20th March, which will be hosted by industry experts focusing on two key areas, including: "Understanding the complexity of the microbiome and how to navigate it" led by Case Western Reserve University & FairyGut Mother, and "Understanding PK/PD in antimicrobial research" led by University of Liverpool.
Download the latest brochure on the event website at: http://www.superbugssuperdrugs.com/pharmphorpr.
Superbugs & Superdrugs Conference
18th-19th March 2019
London, UK
---- END ----
About SMi Group: Established since 1993, the SMi Group is a global event-production company that specializes in Business-to-Business Conferences, Workshops, Masterclasses and online Communities. We create and deliver events in the Defence, Security, Energy, Utilities, Finance and Pharmaceutical industries. We pride ourselves on having access to the world's most forward-thinking opinion leaders and visionaries, allowing us to bring our communities together to Learn, Engage, Share and Network. More information can be found at http://www.smi-online.co.uk