Cello Health Acquires Defined Health
Partner Content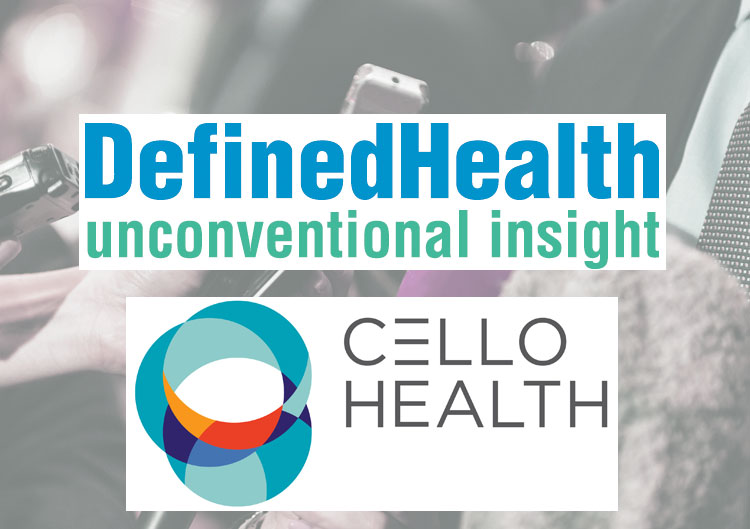 Cello Health has announced further expansion in the United States with the acquisition of New Jersey-based company Defined Healthcare Research Inc. ('Defined Health').
Defined Health, founded in 1983, is a leading business development strategy firm servicing life sciences firms with a particular focus in biotech.  The company helps clients build and strengthen portfolios and platforms with services focused on defining value for early stage compounds.  The firm's thought leadership is recognized across many cutting edge therapeutic areas as further evidenced by their annual Cancer Progress conference, now in its 27th year, and their Therapeutic Insight conferences.
Defined Health will work closely with Cello Health's consulting capability Cello Health Consulting, especially in early asset development and commercialization, while providing further depth to its services through Cello Health's US capabilities in Communications and Insight, and specific Cello Health services in areas such as market access.
Stephen Highley, Chairman of Cello Health, commented: "We are very pleased to welcome Defined Health to the Group. Defined Health has achieved a strong reputation by working closely with clients to build and strengthen biotech development-stage assets. Understanding the commercial opportunity and applicability of early stage assets is of fundamental importance to our clients and Defined Health positions Cello Health to be able to deliver to this requirement."
"The acquisition of Defined Health is an excellent strategic fit as we continue our expansion in the US, strengthening our focus on early drug development and complementing our three core capabilities in Insight, Consulting and Communications," added Julia Ralston, CEO, Cello Health US.
Ed Saltzman, President and Founder of Defined Health said: "Cello Health's core capabilities both augment and powerfully synergize with our own and will serve to increase the value we can offer our clients through the full span of the development process from early development to commercial launch. We are extremely excited to be part of Cello Health."
About Cello Health:
Cello Health delivers cutting-edge medical and marketing solutions to the global pharmaceutical, biotechnology and health sectors. With a speciality in early asset development and commercialization, Cello Health leverages three distinct capabilities to deliver a fusion of expertise to unlock the potential of organisations, brands and assets:
Cello Health Insight: global marketing research and customer insight
Cello Health Consulting: strategic consultancy
Cello Health Communications: evidence and engagement