6th Annual 3D Cell Culture Conference
Partner Content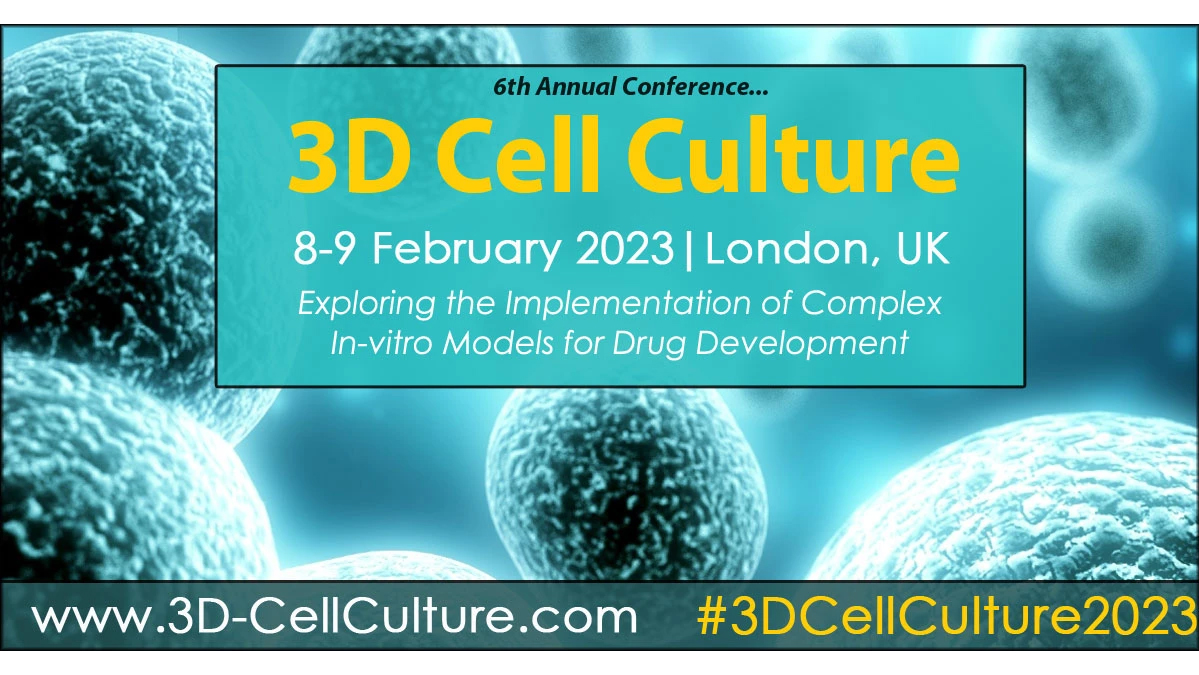 www.3d-cellculture.com/PharmaphorumWL
Exploring the implementation of complex in-vitro models for drug development
Join us in February 2023, as SAE Media Group's 6th annual 3D Cell Culture Conference brings together industry experts from big pharma, regulatory bodies, and cutting-edge researchers to discuss the challenges and drivers of these medical technologies, through case studies of the latest innovations in 3D Cell Culture models, real world examples of clinical applications, and insights into regulatory validation and high throughput screening to give a comprehensive look into this fast growing industry.
3D Cell Culture has gained increasing momentum in the pharmaceutical industry over recent years, with the global 3D Cell Culture market predicted to reach a value of $3.48 Billion by 2028. The pharmaceutical industry globally is realising the growing potential of in vitro tissue models for drug discovery, pathology modelling and validation, safety and toxicity. 3D Cell Culture technology promises to offer increased translatability in models and reduce the costly rates of drug attrition in the discovery process -- heralding the next major advance in the discovery of pharmaceuticals.
Event Hashtag: #3DCellCulture2023
Key Conference Highlights:
Discuss the uses of advanced cell technologies for human tissue bioengineering
Uncover the major benefits of 3D modelling in enhancing clinical translation and predictability
Utilise 3D cell culture for personalised drug screening and high-throughput screening over traditional 2D methods
Learn how to implement 3D Cell Culture techniques for antibody and cell and gene therapy discovery process
Delve into advanced case studies looking into organ models: from the blood-brain barrier to liver spheroids
Featured Speakers Include:
Stefan Przyborski, Professor Cell Technology, Durham University
Etienne De Braekeleer, Senior Research Scientist, AstraZeneca
Dr Manjunath Hegde, Scientific Investigator & Associate Fellow, GSK
Scott MacDonnell, Director – New Target Interrogation Group, Regeneron
Stephen Fowler, Group Leader, Clinical Pharmacologist, Roche
Patrick Devine, Scientific Director, Bristol Myers Squibb
Pelin Candarlioglu, Investigator - Bioengineer/Cell Biologist Complex In Vitro Models, GSK
Masato Ohbuchi, Senior Researcher, Astellas
Who Should Attend?
Biotech / Pharma Companies - Investigative toxicologist, Research Scientist, Clinical Pharmacologist, Cell Technologists, Cell and Molecular Scientist, Head of Translational Research, In-Vitro Toxicologists, Director of Drug Discovery, Head of DMPK, Chief Scientific Officer, R&D Scientist, Head of R&D.
Academia - Cell Technology, Stem Cell Sciences, Biochemistry, Protein Technology and Tissue Engineering
Solution Providers – Manager, Head of, CEO, Director, Founder, Account Manager, President, CSO, Executive, Managing Director, Vice President, COO, Biomedical Engineers, Head of External Collaboration
Organisations / Regulatory – Director, Senior Science Advisor, Scientific Officer, Advisor for Toxicology