3 Key Reasons to Attend the 5th Drug Safety conference in London
Partner Content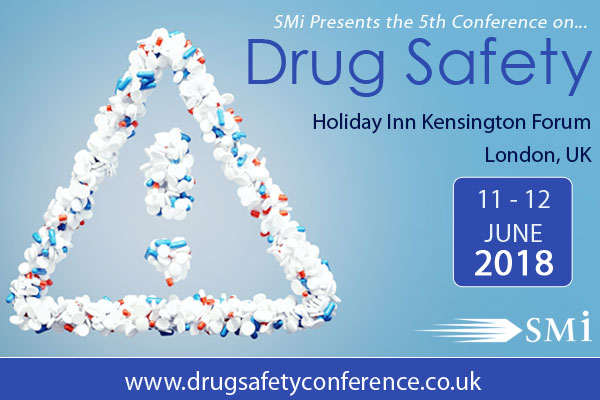 SMi's 5th Drug Safety conference will take place at the Holiday Inn, Kensington Forum, London, between the 11th – 13th June 2018.
Here are 3 key reasons to attend:
1. THE PROGRAMME
Our global panel of speakers will strengthen knowledge in key topics such as: the future of clinical trial regulations, pharmacovigilance stakeholder management, risk minimisation, the new Eudravigilence system, new legislations, the impact of Brexit and more!
With 17 thought-provoking presentations, 1 panel session and 1 hands on interactive workshop from leading pharmaceutical and regulatory companies, hear from MHRA, Takeda, Sanofi, Pfizer, Lygature, Novo Nordisk, Amgen and more!
Featured highlights to look forward to this June:
- MHRA spotlight presentation on the future of Clinical Trial Regulations
- Hear first experiences with the new Eudravigilence system
- Gain insight into how competitors are reporting adverse effects under the new legislation and system
- Discuss risk-minimisation and signal detection strategies with industry-thought leaders
- Evaluate the benefits and pitfalls of patient involvement and patient support programs
2. THE NETWORKING
SMi keep networking at the forefront when it comes to our attendees. Expand your community, benefit from the right people and develop your career at the 5th conference. With over 8 hours of dedicated to networking, this conference provides the perfect platform to build strategic partnerships and secure future collaborations.
Network with a room full of experts, as previous attendees included:
Bluefish Pharmaceuticals | Dexcel-Pharma Limited | Diamond PV Services | Grunenthal Gmbh | NDA Regulatory Science | OXON Epidemiology | Roche | Royal College of Physicians London | Takeda Chemical Industries | Takeda Pharmaceuticals, + many more…
3. INTERACTIVE HANDS ON WORKSHOP
The conference will also be hosting an interactive half day post-conference workshop on the 13th June, presented by London School of Hygiene & Tropical Medicine
WORKSHOP DETAILS:
- Workshop Focus: PASS: Evaluation of Risk Minimisation
- Time: 08:30 - 12:30
- Workshop Leader: Nawab Qizilbash, Head, OXON Epidemiology and Honorary Associate Professor, London School of Hygiene & Tropical Medicine
Further information is available at: www.drugsafetyconference.co.uk/phpr
SMi presents the 5th conference on:
Drug Safety 2018
Date: 11th – 12th June 2018
Workshops: 13th June 2018
Location: Holiday Inn Kensington Forum, London UK
Website: www.drugsafetyconference.co.uk/phpr
---end---
Contact Information:
For all media inquiries contact Pav Solanki on Tel: +44 (0)20 7827 6048 / Email: psolanki@smi-online.co.uk
About SMi Group:
Established since 1993, the SMi Group is a global event-production company that specializes in Business-to-Business Conferences, Workshops, Masterclasses and online Communities. We create and deliver events in the Defence, Security, Energy, Utilities, Finance and Pharmaceutical industries. We pride ourselves on having access to the world's most forward-thinking opinion leaders and visionaries, allowing us to bring our communities together to Learn, Engage, Share and Network. More information can be found at http://www.smi-online.co.uk