Transforming complex biologics delivery and enhancing patient experience
Partner Content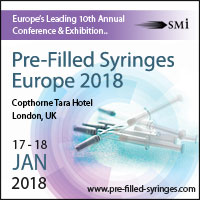 SMI Reports: SMi Group will welcome the expertise of Sudeshna Dutta Ray when she presents at the 10th annual Pre-Filled Syringes Europe conference on 17th and 18th January in Central London.
Sudeshna Dutta Ray is a Senior Engineer in the Advanced Device Technology and Innovation (ADTI) group in Amgen which serves as the front end of device innovation within Amgen.
Sudeshna has extensive experience in the medical device and combination product space and has served a range of roles from individual contributor to device lead in late-stage projects involving accessorised prefilled syringes, multi-dose pens, wearable injectors and auto injectors supporting various therapeutic areas. She has also had the opportunity to perform early feasibility work on novel platforms such as Dual chamber syringes, hollow micro-needles for vaccine delivery and drug depot for ocular delivery.
Her talk at Pre-Filled Syringes Europe will look at transforming complex biologics delivery and enhancing patient experience through novel drug delivery technologies.
As well as exploring a broad array of technologies to meet the delivery needs such as vial, iv, handheld injectors, wearable injectors and novel delivery platforms; highlights will include topics surrounding trends in biologics development; a case study on patient centric approaches to device development; and insight into improving patient outcomes through increased compliance and adherence.
Other presenters on the notable speaker line-up at Pre-Filled Syringes Europe 2018 will include the MHRA, Boehringer Ingelheim, Shire, GSK, Novo Nordisk, Novartis, Janssen, Merck, Amgen, Lonza, F. Hoffmann-La Roche, UCB Celltech, Nemera, Worrell, Intertek (Schweiz) AG, Terumo Medical Corporation, Mitsubishi Gas Chemical Company and more.
SMi's 10th annual 2018 Pre-Filled Syringes Europe conference and exhibition will take place on 17th & 18th Jan at the Copthorne Tara Hotel, Kensington, London UK.
Further information including a detailed agenda and full speaker line-up is available at www.pre-filled-syringes.com
--- END ---
Contact Information:
For media enquiries contact Teri Arri on Tel: +44 (0)20 7827 6162 / Email: tarri@smi-online.co.uk
For all other enquires contact the team on Tel: +44 (0)20 7827 6000 or email events@smi-online.co.uk
Sponsors of Pre-Filled Syringes Europe 2018 include: 3P Innovation, Früh Verpackungstechnik AG, Intertek (Schweiz) AG, Mitsubishi Gas Chemical, Nemera, Nipro PharmaPackaging, Owen Mumford, Panasonic Healthcare, Terumo Pharmaceutical Solutions, West Pharmaceutical Services, Worrell, Inc. & Zeon. For details contact Alia Malick at amalick@smi-online.co.uk
About SMi Group:
Established since 1993, the SMi Group is a global event-production company that specializes in Business-to-Business Conferences, Workshops, Masterclasses and online Communities. We create and deliver events in the Defence, Security, Energy, Utilities, Finance and Pharmaceutical industries. We pride ourselves on having access to the world's most forward thinking opinion leaders and visionaries, allowing us to bring our communities together to Learn, Engage, Share and Network. More information can be found at http://www.smi-online.co.uk