This Week's Spotlight Features GSK and Advanced Cell Diagnostics
Partner Content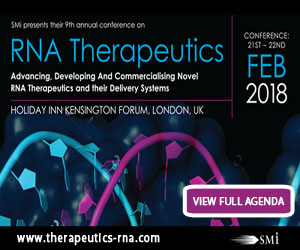 An Overview of SMi's 9th RNA Therapeutics 2018
- This Week's Spotlight Features GSK and Advanced Cell Diagnostics -
Two different forms of RNA-based vaccines are currently being developed against influenza: conventional, non-amplifying mRNA and self-amplifying mRNA molecules. Non-viral delivery of self-amplifying mRNAs (SAM technology), derived from a modified alphavirus single-stranded (ss) RNA genome, elicits very potent and broad-based immune responses due to antigen expression in host cells and to their intrinsic innate immune stimulating capabilities . The SAM technology has already proven successful against various disease targets like HIV, RSV, CMV, and influenza, and in animal models including mice, cotton rats, ferrets, and non-human primates. Dr. Giulietta Maruggi, Lab Head, Vector Biology Preclinical R&D US, GSK will discuss the broad utility of SAM against specific infectious diseases. She will also outline the facilitation of a rapid response to emerging infectious diseases and will conclude by giving an overview of the up-to-date understanding of the mechanisms of action of this novel therapy.
In situ analysis of biomarkers is highly desirable in molecular pathology because it allows the examination of biomarker status within the histopathological context of clinical specimens. For example, immunohistochemistry and DNA in situ hybridization (ISH) are widely used in clinical settings to assess protein and DNA biomarkers, respectively, but clinical use of in situ RNA analysis is rare. This disparity is especially notable when considering the abundance of RNA biomarkers discovered through whole-genome expression profiling. This is largely due to the high degree of technical complexity and insufficient sensitivity and specificity of current RNA ISH techniques. Dr. Kai Wilkens, Senior Director Sales & Marketing Europe, Advanced Cell Diagnostics, will define the RNAscope, a novel RNA ISH technology with a unique probe design strategy that allows simultaneous signal amplification and background suppression to achieve single-molecule visualization while preserving tissue morphology.
RNAscope is compatible with routine formalin-fixed, paraffin-embedded tissue specimens and can use either conventional chromogenic dyes for bright-field microscopy or fluorescent dyes for multiplex analysis. Unlike grind-and-bind RNA analysis methods such as real-time RT-PCR, RNAscope brings the benefits of in situ analysis to RNA biomarkers and may enable rapid development of RNA ISH-based molecular diagnostic assays.
Download a brochure online: www.therapeutics-rna.com/phpr
- PLUS...Featured Highlights for 2018 -
- Hear from MiNA Therapeutics about their new pre-clinical data supporting the on-target mechanism of action of their pioneering new drug candidate MTL-CEBPA.
- Learn how CureVac's sophisticated technologies and approaches have helped overcome limitations such as the instability of single-stranded RNA.
- Discover STORM Therapeutics' innovative approach: Harnessing the power of RNA epigenetics to develop first-inclass drugs in oncology.
- Expand your knowledge of patenting RNA Therapeutics, with James Ogle, a European and UK Chartered Patent Attorney with particular expertise in RNA and other nucleic acidbased technologies.
- Examine the latest developments in delivery systems for RNA Therapeutics, including Exosomes, Nanocomplexes and Platform Delivery Approaches.
Sources: h ttp://bit .ly/2D1sd5L | htt p://bit .ly/2miUN7u
Further information is available at: www.therapeutics-rna.com/phpr
SMi presents the 9th Annual Conference:
RNA Therapeutics
Date: 21st – 22nd February 2018
Location: Holiday Inn London - Kensington Forum
Website: www.therapeutics-rna.com/phpr
Sponsored by: ChemGenes | Phion Therapeutics | Advanced Cell Diagnostics | Lypocalyx
---end---
Contact Information:
For all media inquiries contact Pavan Solanki on Tel: +44 (0)20 7827 6048 / Email: psolanki@smi-online.co.uk
About SMi Group:
Established since 1993, the SMi Group is a global event-production company that specializes in Business-to-Business Conferences, Workshops, Masterclasses and online Communities. We create and deliver events in the Defence, Security, Energy, Utilities, Finance and Pharmaceutical industries. We pride ourselves on having access to the world's most forward-thinking opinion leaders and visionaries, allowing us to bring our communities together to Learn, Engage, Share and Network. More information can be found at http://www.smi-online.co.uk