Discover the future of 'social pharma'
Partner Content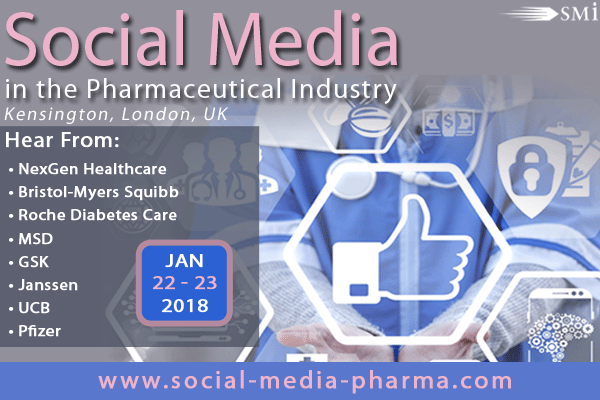 Returning to London this January 2018, Day 1 will address topics on wearable technologies, patient engagement and social media strategies; while Day 2 covers interaction using social media, digital health strategies and effective content. www.social-media-pharma.com/phpr
3 Key Social Media Priorities for the Pharmaceutical Industry
1. The Digital Customer Journey
Optimising the customer journey across multiple touchpoints will be very important for companies' marketing for the coming future. Healthcare and pharma companies are 14% more likely than their peers in other sectors to consider customer journey management as a priority in 2017.* Listening to how the patient audience is interacting with a brand, as well as what they are saying, can help marketing teams better assess how their patients understand their condition and the brand's role in managing that condition.
[Agenda Highlight] - Day 1 | @9:50 | Steve Reeves, Director, Social Intelligence, DRG Digital
Summary of presentation:
Case study: How to Map Out and Understand A Patient's Journey
- The emergence of the emotional aspect of the patient.
- Creating emotional paths of shock, fear, depression to understand patient journey.
- Scoring emotional triggers and using statistical models.
2. Wearable Technologies
The boom in wearables that collect lifestyle and fitness data is of huge benefit to an industry whose wealth of existing data is often locked up by regulation or in non-digitized formats. A truly digital-first industry could mean a reduction in health problems, as lifestyle monitoring tools begin to predict and prevent them before they arise; it could mean that health is not defined by the absence of ailments or disease, but by a person's wellbeing and lifestyle. Companies within the sector would be able to shift their focus to prevention rather than treatment. Digital technologies are making it easy for patients to access and track their health information, at the same time facilitating seamless communication with their providers.*
Virtual reality (VR) and augmented reality (AR) are being incorporated into new healthcare technologies and systems, with uses ranging from training doctors in operating techniques to gamifying patient treatment plans.*
[Agenda Highlight] - Day 1 | @ 15:50 | Andreas Haimboeck-Tichy, UK Director for Healthcare and Life Sciences, IBM
Summary of presentation:
The development of a Watson-Powered 'Virtual Personal Assistant'
- Efforts in providing information and advice to people living with arthritis.
- Plans to leverage Watson cognitive voice input/output and location services to extend its capabilities.
- How we might integrate cognitive computing into our services in order to positively impact the lives of people living with a serious health condition.
3. Content is Key
Social media is a powerful communication and content distribution tool, and healthcare and pharma companies clearly recognize this. The industry is using content as a way of meeting the needs of consumers who are playing a more active role in their healthcare choices. Though historically, content has been mainly used by pharma companies marketing to healthcare professionals. Content is gradually earning its place in healthcare campaigns, and the next few years will see content creation and storytelling emerging as prominent, very much in-demand skills. One of the best ways for companies to appeal to a range of different audiences is through tailored content, and some big players are using it to their advantage.*
[Agenda Highlight #1] - Day 2 | @9:50 | Sebastian Soithongsuk, Global Content Manager, Digital Comms, GSK
Summary of presentation:
Why The Social Media Content Should Be Less "Promotional" & More About Storytelling
- What does good social media content look like today, and how is it changing?
- Which content frameworks and tools can help understand the audience and create better content to engineering a successful social media strategy?
- What can be gained from targeted content?
[Agenda Highlight #2] - Day 2 | 11:40 | Tughan Demirbilek, Strategy & Operations Director, Bristol-Myers Squibb
Summary of presentation:
Content is key to creating an excellent digital strategy and engaging patients
- Tools used to gather the data through customer insights.
- How to create high quality engaging content despite some shifts towards influencer marketing, content is still key to engineering a successful social media strategy.
- Content that is valuable and relevant to clients/stakeholders.
- What can be gained from targeted content?
A full brochure is available online: www.social-media-pharma.com/phpr
Don't Forget...
Put learnings into practise, with the interactive half-day post-conference workshop, presented by LucidQuest on the 24th January 2018 at, 08:30am - 12:30pm.
The workshop will focus on how stakeholders can combine the latest advancements in Social Media /Social Networking and Strategic Competitive Intelligence in order to uncover opportunities and threats for their companies and brands. Workshop participants will also be provided with a short step-by-step guide on how to integrate SM / SN, and leverage collected data in their competitive intelligence efforts.
Workshop Leaders: Timos Papagatsias, CEO, LucidQuest | Elvira Dragas, Partner, LucidQuest
For more information on all sessions, view the full agenda: www.social-media-pharma.com/phpr
For those looking to attend there is currently a £100 early-bird saving by November 30th.
SMi Presents the 10th Annual Conference:
Social Media in the Pharmaceutical Industry
Date: 22nd – 23rd January 2017
Location: Kensington, London
Website: www.social-media-pharma.com/phpr
Sources: *https://adobe. ly/2Av402S | *http: //bit.ly/2yKN7UG
---end---
Contact Information:
For all media inquiries contact Pavan Solanki on Tel: +44 (0)20 7827 6048 / Email: psolanki@smi-online.co.uk
About SMi Group:
Participation as Sponsor/Exhibitor will be Highly Beneficial to Your Business Development
Market research and customer insight has indicated that our delegates are keen on hearing about your latest services and product offerings. Are you available this week? We'd be happy to give you a call to discuss your participation as either a sponsor joining our industry speaker panel below, or as an exhibitor.
Established since 1993, the SMi Group is a global event-production company that specializes in Business-to-Business Conferences, Workshops, Masterclasses and online Communities. We create and deliver events in the Defence, Security, Energy, Utilities, Finance and Pharmaceutical industries. We pride ourselves on having access to the world's most forward-thinking opinion leaders and visionaries, allowing us to bring our communities together to Learn, Engage, Share and Network. More information can be found at http://www.smi-online.co.uk