Roche/AbbVie drug could further improve prognosis in CLL
News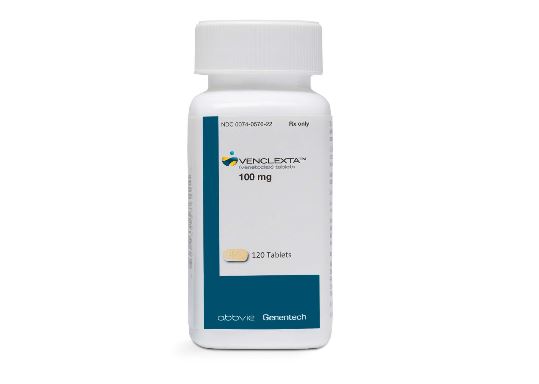 Roche/AbbVie's cancer drug venetoclax, which is set to become standard of care in chronic lympocytic leukaemia, could further improve prognosis earlier in the disease according to a UK expert.
Venetoclax, branded as Venclexta in the US and Venclyxto in Europe, is winning over doctors with strong clinical trial results that showed the drug prolonged progression-free survival when combined with Roche's Rituxan (rituximab) in CLL, compared with standard bendamustine and Rituxan therapy.
Results of MURANO published last week will form the basis of a regulatory filing in patients with relapsed or refractory CLL – but Peter Hillmen, professor of explorational oncology at the University of Leeds said the drug could produce results earlier in the disease.
According to the MURANO results published at the American Society for Hematology conference, nearly 85% of patients were alive without disease progression after two years on venetoclax/Rituxan, compared with around 36% on standard care.
While MURANO focused on patients treated with at least one, but not more than three lines of therapy, Hillmen said he is looking forward to future trials that combine venetoclax with other cancer drugs in previously untreated patients.
Venetoclax combined with Roche's Gazyva (obinutuzumab) is already in phase 1 development in previously untreated CLL, and in phase 2 as a monotherapy in first line CLL with a 17p13 deletion.
Venetoclax is a competitor to Imbruvica (ibrutinib) in CLL, which is co-marketed owned by AbbVie and Johnson & Johnson.
But venetoclax has an advantage over Imbruvica in that treatment can be stopped after around two years at maximum or until disease progression.
Patients treated with Imbruvica regimens so far are treated indefinitely, potentially making venetoclax combinations more cost-effective, said professor Hillmen in an interview with pharmaphorum.

Professor Peter Hillmen
Hillmen said: "The thing is with venetoclax is that we stop treatment. With ibrutinib, that carries on indefinitely."
"The fact we have a fixed term of administration makes it more cost effective. The aim of future combinations is to try and shorten the treatment. It might cost more in the first few months, but then it becomes much more cost-effective."
Hillmen is now looking forward to further trials of venetoclax, which he hopes will unlock more of the drug's potential using shorter-term treatment durations in earlier stages of the disease.
"It is fair to say that venetoclax is a major positive development in leukaemia treatment. It is leading to improved survival rates in CLL and I think as we move into first line, in patients who have not been treated, we are likely to see some better responses."
The drug gained a recommendation from NICE's cost effectiveness watchdog last month in CLL patients who had at least one prior therapy but only through the updated Cancer Drugs Fund (CDF) and its new managed access mechanism. It gained approval through this route in patients with our without a 17p deletion or TP53 mutation - opening up its use to a much broader group of patients.  Its rival Imbruvica gained a NICE recommendation without recourse to the CDF in January, but only in patients with 17p deletion or TP53 mutation.
AstraZeneca's Calquence, in the same class as Imbruvica, recently gained FDA approval, adding to the therapy area's competition.