Veeva Systems Summit, Madrid - pharmaphorum reflects
News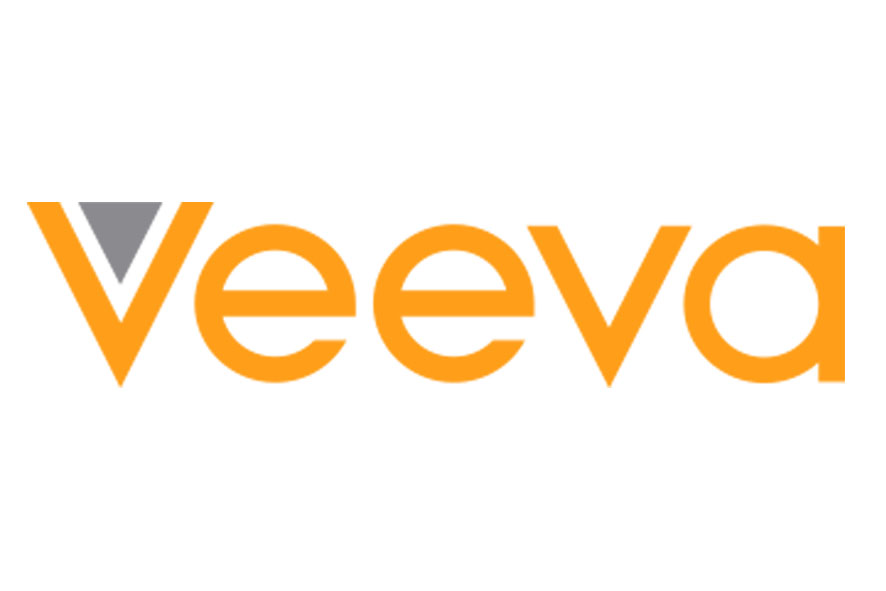 Veeva Systems invited pharmaphorum to attend its industry summit in Madrid this week, a huge event that gathered together over 1,000 individuals from life sciences and pharma.
The Marriot Auditorium & Conference Centre was the venue for this occasion, the largest global conference of its kind in Europe, the titular space made clear just how 'big' these systems are in facilitating what pharma does, today and very much tomorrow.
Veeva Europe's president, Chris Moore, officially commenced the summit in an opening keynote entitled 'Ready or not? The race to high-value engagement'. Discussing how the energy crisis is squeezing budgets and how healthcare costs have become higher than ever, Moore stated that the time is right for high-value engagement. The question is, how can the journey there be accelerated, when on the horizon awaits a life sciences future very much immersed in speciality medicine?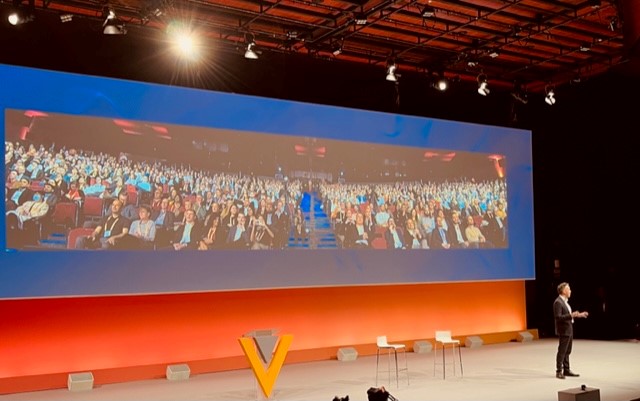 A 10th anniversary reconnection, reassessment, and race for relevance
Moore thanked everyone for coming in person for the 10th anniversary of the summit, signifying a reconnection as an industry. The biggest gathering of pharma companies in Europe right now on the commercial side, the Veeva Systems Summit permits the sharing of best practices and of new ideas. For those who were new and for those who revealed themselves to be frequent attendees, there should be something to learn, Moore hoped.
As we come out of the pandemic, hit by the cost-of-living crisis across Europe sparked by the Ukrainian war, and coupled with extended lifespans that are ever-widening an ageing society, more care will be needed – but how? And what is society's part in providing that care? Moore asked. How can it fund the necessary production of medicine? This, he said, is something Veeva's business consulting team has been looking into it. Facts that they gleaned included:
Across Europe, only 52% of HCPs will accept a visit from a pharma company (i.e. almost half won't);
Of those, 65% will engage with three or fewer pharma companies;
In the UK, as many as 94% of HCPs will engage with three or fewer.
In the past, Moore said, the go-to solution was to hire more reps, but that doesn't carry forward anymore. The difference is the relevance of engagement: how much does the HCP take away from the interaction? The race for relevance is on. How can you become more relevant? Help physicians to better understand the medicines and, by that means, prescribe them.
Veeva Systems – a journey from Silicon Valley into the life sciences
In short, Veeva builds the industry cloud for life sciences. Founded in 2007 by Peter Gassner, a luminary of Silicon Valley with a net worth of circa $5.25 billion, Gassner created Veeva after early retirement in his 40s, seeing an opportunity with a Salesforce-type product that could instead be used to focus on individual industries. Together with Matt Wallach, Gassner began with the life sciences, and they never looked back.
As an industry, pharma has specific needs; it is driven by targeted regulations and rules and has not been well served by technology. Pharma organisations operate over long periods of time, with the drug-to-market process taking upwards of 12 plus years, working across different functions of those organisations with technology designed to focus on individual bits of the puzzle.
What Veeva has done is helped make each piece of the puzzle that bit better, the multiplier effect meaning companies don't have to join the bits together because Veeva has done it for them. As Moore explained, Veeva wants to produce something so valuable to the industry that it is essential; something that is appreciated, also.
Revolutionisation through digital commercialisation
Moore was then joined for a Fireside Chat with COUR Pharmaceuticals' COO Malcolm Crooks.
Crooks has worked in multiple big pharma companies, including AstraZeneca, Pfizer, and Merck Serono, but he now heads COUR, a small organisation of 50 individuals (increased from 15 as of last year) that aims to expand to a headcount of 75 in 2023.
Working in the allergy and autoimmune space, COUR looks at nanoparticles and allergens – such as peanut and coeliac (which he had experience with whilst at Takeda) – and infuses these into patients as a treatment so that the body accepts it because of the precise combination technology, patients forming a tolerance to the antigen. It is what Crooks deems a revolutionisation of allergen and autoimmune care.
Asked what the biggest challenge has been, Crooks stated a 20% decrease in biotech funding from last year, so the company has been spending a lot of time private fundraising, selling technology to raise funds to run the programmes. The balance to be achieved is based on the essential question, do they buy people, buy talent, or do funds go towards equipment for the lab?
With an eye on launch and commercialisation, the key is gaining access to patients for studies. COUR currently has 12 sites for its peanut allergy trials. Via a digital campaign with meta-platforms costing only around $500, it is an investment in digital opportunities that facilitates communication to patients.
Prioritisation and the evolution of the sales, medical, and marketing triumvirate
Moore asked how Crooks prioritises in such a funding crisis as at present and the immediate answer was a 'brutal' process, prioritising market and disease readiness, country specific, and asking whether there is access to be had. Entirely focused on the US at the moment, COUR will later expand its focus to Europe for recruitment, but it is currently a secondary consideration to the US market. The big five in Europe will be focused on, which in its mindset still includes the UK – an attractive, though hard market, but one which has a higher predictability than France these days. Indeed, Crooks said France is the most fragile at the moment; Germany, though, is still predictable.
Standing out, however, is crucial. And that's where digital comes into play. As Crooks said, data is data, but companies have to constantly try to transfer that into actual knowledge. The real essence is to transfer the data into the right questions to show the difference of the product. Sales, medical, and marketing evolving together and building medical content creates communication and an agility to work with commercial partners.
Moore asked Crooks how the representatives from across the industry and its partners present at the summit could help companies such as COUR. His response was that through targeting, the right knowledge, the right data, the right questions – a veritable checklist for doing things simply, at speed and with agility – a process of giving back, of training the next generation, is critical. All things considered, training talent is vital.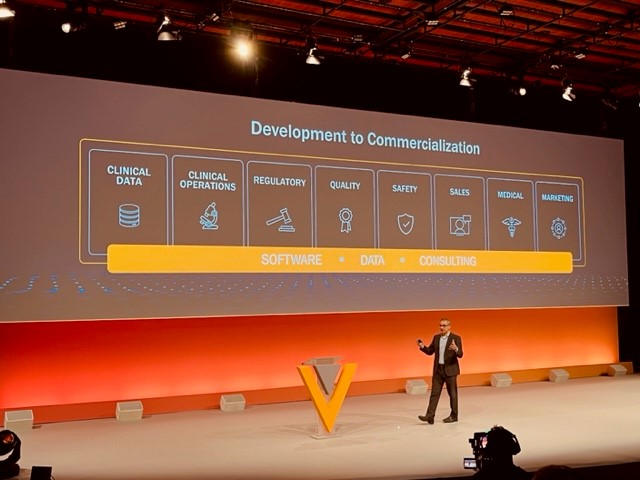 Simplification of company processes and commercial strategy
Veeva's EVP of commercial strategy Paul Shawah came onto the stage afterwards, buoyant about seeing the 'fun' of innovation that small companies are bringing to the industry. He reconfirmed the fundamental position of technology, how it can either enable simplification or create complexity, before explaining the development of the systems used, how - historically - they were bought individually and then stitched all together. The strategy, therefore, has been to build great software natively integrated and connected. Next, the envisaged evolution will be to simplify the data like the software, embed it into the software.
Now, then, Shawah told us, industry cloud has software plus data plus consulting. The third leg of the stool, so to speak, consulting helps adaptation.
The Veeva Systems Summit is about sales, medical, and marketing – the commercial side of things, but on the development side Veeva also works in clinical data, clinical operations, regulatory, quality, and safety – and it is starting to connect the functional areas.
Excellence, coordination, and connection
When we think about the problems, Shawah said, it's about getting the right medicine to the right patient. Veeva's strategy is to help simplify that with excellence in and connection between sales, medical, and marketing. It wants to deliver the technology that creates that collaboration and benefit for the customer. That, he said, is commercial excellence. It is an aspirational vision, and one that isn't new, but one that is very much in evolution.
The whole pharma industry is built on compliance. It is foundational, one step along the journey, Shawah said. Channel excellence has become important over the last three or four years, wiring seamlessly all the channels, and optimising resources across those, including role coordination. The next step along this path is the connected customer.
Adding all the pieces together, he explained, you need each one, and they are delivered through software, data, and consulting – the key is for Veeva to do this for the industry so that individual companies don't have to do it individually over and over again.
Announcements, aims, and awards
Shawah revealed some of Veeva's plans, including an engagement platform centred around starting and scheduling the conversation so that it becomes much more meaningful and impactful. He also revealed Outlook calendar integration is to be part of the platform (to which there were pleased rumblings and applause from the audience). Veeva is equally 'super excited'. Coming in April 2023, this will be part of the Engage license.
On the theme of continuing to advance and evolve meeting capabilities as well, Shawah noted that most doctors are not on LinkedIn, so it is difficult to be connected with reps. A potential game-changing way of creating that lasting relationship with customers, inclusive of compliant content sharing – the Engage platform will facilitate this capability also (as shown in an instructive little 'vignette' of one Dr Morris in need of a rep and an MSL digital introduction).
Additionally, Shawah covered Link Key People, used by small and large pharma companies alike: the next stage is Link Key Account, for the payers, the key people. Available today in both the US and UK markets for early adopters, Veeva aims to take it globally.
To close, Shawah reminded those in attendance that the race to high-value engagement starts with them.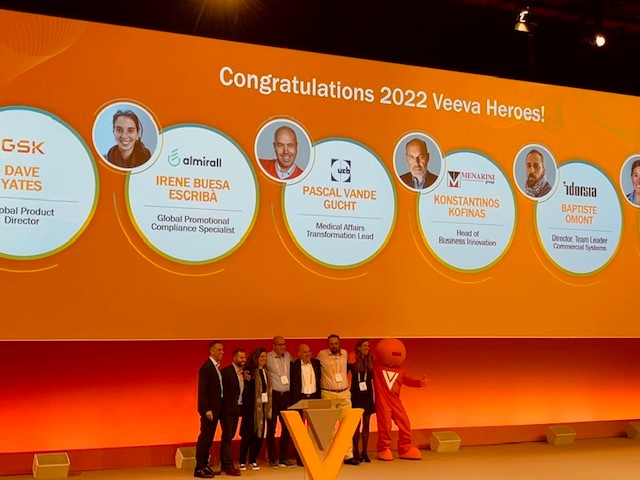 Moore returned to the stage at this point - with the company's orange mascot not far behind - to announce the 'Veeva Heroes': Dave Yates, global product director at GSK; Irene Buesa Escribà, global promotional compliance specialist at Almirall; Pascal Vande Gucht, medical affairs transformation lead at UCB; Konstantinos Kofinas, head of business innovation at Menarini Group; Baptiste Omont, director and team leader of commercial systems at Idorsia; and Elodie Privat, sales analytics & operations lead at Novartis, gene therapies.
And so, the opening speeches came to a close and the summit rolled into its multi-track part – to be summarised separately.