UK hospital will use MindMaze game to aid stroke recovery
News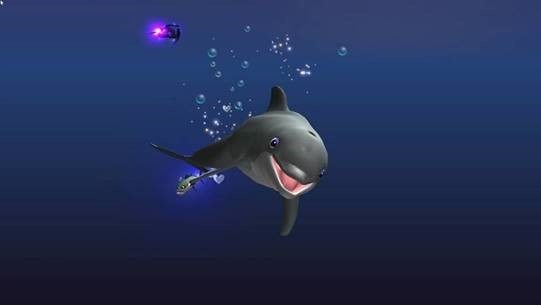 A hospital trust has become the first in the UK to deploy a gaming system developed by Swiss company MindMaze that is intended to help patients suffering a stroke to repair their brains.
The MindPod interactive game is being installed at the Royal Buckinghamshire Hospital (RBH) in Aylesbury and requires players to use upper body movements to control an animated dolphin called Bandit on a screen, directing it to explore the ocean environment and catch fish using movement tracking technology.
The system can also be combined with an anti-gravity device, which assists patients with very limited upper limb mobility by de-weighting the arms, as can be seen in the National Geographic video below:
https://www.youtube.com/watch?v=l2Gr2Ts48e8
MindPod has grown out of research conducted at Johns Hopkins University School of Medicine's neurology department in the US, which showed that this sort of high intensity training can encourage the brain to repair itself after trauma.
A feedback system that delivers a 'jolt' to patients at various points in the game also helps to stimulate that repair process.
In the SMARTS2 clinical trial, the game was shown to double the effectiveness of conventional rehabilitation therapy for the upper limbs during the sub-acute phase after a stroke, a period which lasts for a few months, using the Action Research Arm Test (ARAT) scale. Patients started using the game within six weeks of stroke onset.
The game was also found to be roughly equivalent to regular occupational therapy on the Fugl-Meyer Upper Extremity scale, which is specifically designed for stroke patients, but it is hoped that a larger trial underway in New Zealand may provide further evidence for efficacy. That study is targeting patients as early as one week after stroke.
According to John Krakauer, professor of neurology at Johns Hopkins University and chief medical advisor to MindMaze, the game "allows us to take full advantage of a unique but short window of opportunity to repair the nervous system after a stroke."
"It is a Pixar-level experience which recreates the enriched environments that neuroscience has shown to be beneficial in animal models," he said.
MindMaze notes that MindPod has been approved in the US and Europe as a way to help restore neurological function in stroke, and is also in testing for other indications including Parkinson's disease, traumatic brain injury, dementia and even healthy ageing.
In the UK, around 100,000 people have a stroke every year – that is one stroke every five minutes – yet only 10% of them fully recover, and some form of neuro-restorative therapy is needed in 80% of cases.
"Initial feedback from our patients is incredibly exciting: following a devastating neurological event, patients enjoy MindPod, they become fully engaged and motivated to continue the therapy as they lose themselves in the experience," commented RBH's medical director Ali Jamous.
"MindPod gives them confidence to temporarily forget what they have lost, and instead explore what movements they can make," he added.
Using the game they can work on their motor function day by day "as a high dose intervention that simply isn't feasible with comparably intensive levels of conventional rehabilitation," said Jamous.
The deployment was announced shortly after MindMaze raised $125 million in financing from AlbaCore Capital Group that will be used to fund trials of its digital therapeutics and expand its commercial operations.