After Twitter tirade, Trump invited to visit 'brilliant' NHS
News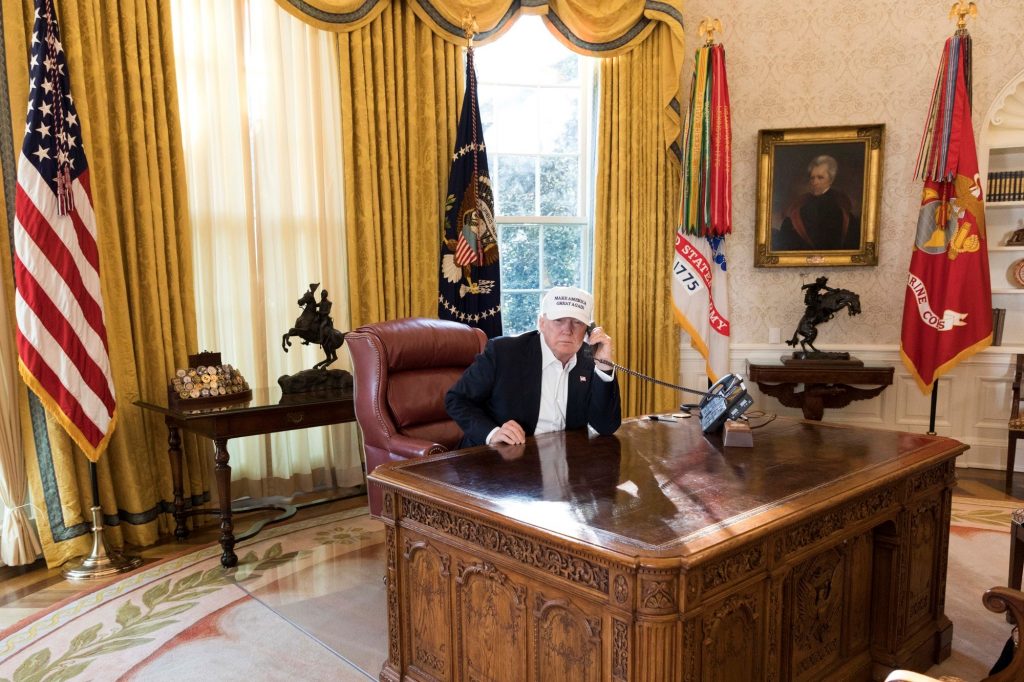 Accusations from President Trump that the UK's National Health Service is hugely unpopular and "going broke and not working" has earned him a sharp rebuke from politicians and the public.
Trump tweeted yesterday: "The Democrats are pushing for Universal HealthCare while thousands of people are marching in the UK because their U system is going broke and not working. Dems want to greatly raise taxes for really bad and non-personal medical care. No thanks!" Trump tweeted.
While Trump's main target was the efforts by some Democrats to extend universal healthcare in the US, his side swipe at the NHS has gone down badly in the UK.
This is not surprising, as opinion polls show that the NHS remains consistently popular with the British public, and one of the most cherished institutions, of which the Conservative government is very much aware.
Often regarded as a weakness for Theresa May's party, Number 10 and health secretary Jeremy Hunt were quick to defend the NHS against Trump's casual criticism.
It became apparent that Trump's outburst was based on his viewing a Fox & Friends interview with his political ally Nigel Farage, Brexiteer and former leader of the UK Independence Party.
There are growing concerns about the NHS, but most of these centre on its funding, which experts all agree is too little to sustain the service amid rising demand.
The march Trump referred to was organised by groups demanding an increase in funding for the NHS, not for it to be scrapped.
The rally drew 60,000 people to central London on Saturday, according to one of its organisers, who are concerned by the Conservative party's handling of the health service.
Health Secretary Jeremy Hunt responded to Trump:
"I may disagree with claims made on that march but not ONE of them wants to live in a system where 28 (million) people have no cover. NHS may have challenges but I'm proud to be from the country that invented universal coverage - where all get care no matter the size of their bank balance," said Hunt.
A spokesman for Prime Minister Theresa May echoed this sentiment, and pointed to a Commonwealth Fund international survey which found the NHS was rated the best performing out of 11 developed countries.
Opposition Labour Party leader Jeremy Corbyn tweeted his reply: "Wrong. People were marching because we love our NHS and hate what the Tories are doing to it. Healthcare is a human right."
Figures from the World Bank say Britain spends 9.1% of its GDP on health care, compared to 17.1% in the United States.  The average British life expectancy is currently 81.6 years, nearly three years longer than in the US.
Trump's Twitter outburst on UK matters is nothing new: only a week ago he was made to apologise after reposting an anti-Muslim video from a British far-right fringe group.
He also drew scorn in British after criticising the mayor of London after eight died in a terrorist attack in London in June 2017.
There is renewed talk of Trump making an official visit to the UK this year, although the President had cancelled earlier plans for a visit after he feared being greeted with protests.
Simon Stevens, chief executive of NHS England – who has extensive experience of US healthcare – has gone as far as inviting Donald Trump to visit the NHS should he come to the UK.
Invitation to @realDonaldTrump from NHS England boss, Simon Stephens.
Spend time in NHS & "go away understanding that healthcare for everybody, delivered at half the cost of the US healthcare system, is something people in this country are deeply and rightly committed to.' pic.twitter.com/qCUilhfhr3

— BBC Parliament (@BBCParliament) February 5, 2018
Speaking in Parliament, Stevens said:
"That Tweet got the wrong end of the stick – people in this country don't want to ditch our NHS – not withstanding everything we have been talking about today – they want to keep it and strengthen it."
He said that, should the President visit the UK later this year, he should "spend time with brilliant doctors, hospitals, technology experts, scientists to hear about cataract services, the hip replacements, the modern scanners, the world first liver heart and lung transplant, the genomic revolution – all underway here in the NHS."
He concluded that Trump would: "go away understanding that healthcare for everybody delivered at half the cost of the US healthcare system is something that people in this country are deeply and rightly committed to."