Sobi stays on its acquisitive streak with $915m Dova deal
News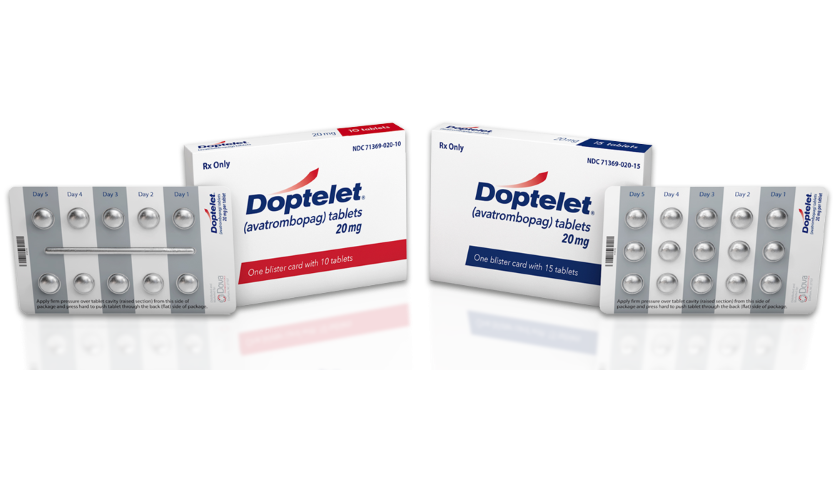 Sweden's Sobi has added another already-marketed product to its rare disease portfolio via a $29 per share takeover of Dova Pharmaceuticals.
The deal – valued at up to $915 million – is due to conclude before the end of the year and will give Sobi rights to oral thrombopoietin receptor agonist Doptelet (avatrombopag), a drug approved by the FDA for low platelet counts caused by chronic immune thrombocytopenia (ITP) and chronic liver disease (CLD).
Second-quarter sales of the drug were $3.5 million, coming entirely from use of the drug before surgery for CLD to reduce the need for blood transfusions, where it competes with Shionogi's Mulpleta (lusutrombopag).
The ITP indication got a green light from the FDA in July, and Sobi is hoping use of the drug will now accelerate and boost its haematology franchise.
That is currently represented by products like Gamifant (emapalumab) for ultra-rare disease primary haemophagocytic lymphohistiocytosis (HLH) – which it acquired entirely in June from Novimmune shareholders after licensing rights in 2018 – as well as haemophilia treatments Elocta and Alprolix.
The Swedish biotech is paying $27.50 per share upfront for Dova, with another $1.50 on offer if Doptelet gets approval for a third indication – chemotherapy-induced thrombocytopenia (CIT) – that could help the drug grow even further.
At the moment there are no FDA-approved therapies for CIT, but ITP is fairly competitive and Doptelet will have to compete with various drugs including Novartis' $1.2 billion Promacta (eltrombopag), Rigel Pharma's Tavalisse (fostamatinib disodium hexahydrate) and Amgen's Nplate (romiplostim) in this indication.
Analysts at Evaluate have suggested Doptelet could reach $1.88 billion in sales for ITP and CLD, thanks to a cleaner clinical profile than Promacta. Specifically, Dova's drug lacks the dietary restrictions, drug interactions and liver side effects seen with Novartis' drug. Approval in CIT could push that even higher, and all eyes now are on a phase 3 readout due in the first half of 2020.
"The cadence of upcoming launches and approvals across indications and regions that Doptelet provides, enables us to further accelerate growth in our haematology franchise" said Sobi chief executive Guido Oelkers.
"There is a large unmet medical need within thrombocytopenia and for us this is a great opportunity to be able to give patients access to new and improved treatments," he added.
Sobi has indicated it will retain all Dova's 125 US-based employees after the deal closes.
Last year, Sobi bought two AstraZeneca drugs – already-marketed Synagis (palivizumab) for respiratory syncytial virus infections and phase 3 follow-up MEDI8897 – in a deal valued at up to $1.5 billion.
In June it slashed staff and R&D projects in order to reduce its focus to haematology and immunology.