Securing Market Access to Medicines for England, Ireland, Scotland Wales – The Landscape Ahead
News
The PM Society Market Access Interest Group (MAIG) is gearing up to host its next in-person meeting on Tuesday, May 23rd, at the prestigious Royal Society of Medicine in London.
The event, titled "Securing Market Access to Medicines for the UK & Ireland – The Landscape Ahead," will address the key issues facing healthcare systems in the UK and Ireland, and discuss the crucial factors in securing market access for medicines in these areas.
It promises to be an insightful and informative experience, with a line-up of confirmed speakers that includes former commercial medicines director for NHS England, Blake Dark; chairman of the board, founder, and CEO for Eularis, Dr Andree Bates; chairperson for EMIG, Leslie Galloway; director for NICE Scientific Advice, Brad Groves; Beigene's market access director UK and Ireland, Silvy Mardiguian; and VP and general manager UK and Ireland for Alexion, Sean Richardson.
The meeting will also include key presentations from the MAIG co-chairs: Brenda Dooley, CEO of AXIS Consulting and Esther Nzenza, CEO of Decisive Consulting.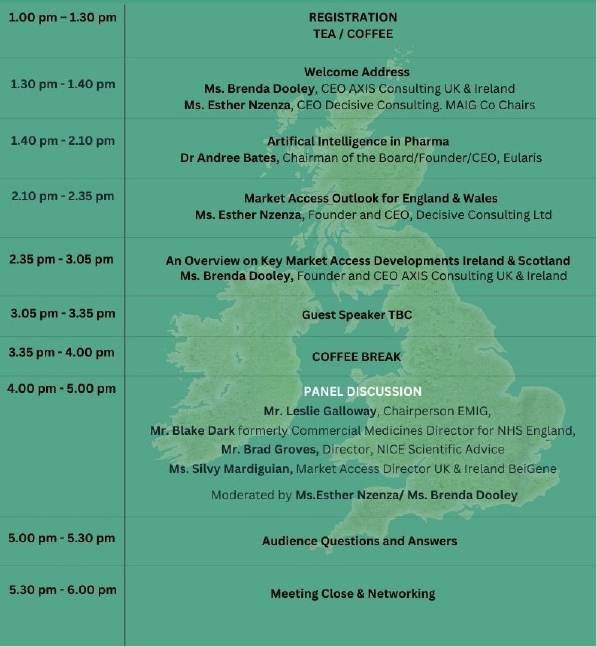 Attendees will have the opportunity to hear from these experts as they delve into the pressing issues surrounding market access in the UK and Ireland, as well as the future of AI in pharma. The event will also provide a platform for networking and knowledge-sharing among attendees.
The event is open to both members and non-members of the PM Society, with tickets priced at £70 for members and £90 for non-members. Interested parties can access the full agenda and book their tickets on the PM Society website.
About the PM Society 
The PM Society is a not-for-profit organisation, which was founded over 40 years ago. Today it has over 4,000 active members from over 250 companies and has three aims – to support organisations and people in healthcare, to recognise excellence and promote best practice and to provide education and training. For more information, see our website at www.pmsociety.org.uk.