Augmented reality software to help spinal surgeons
News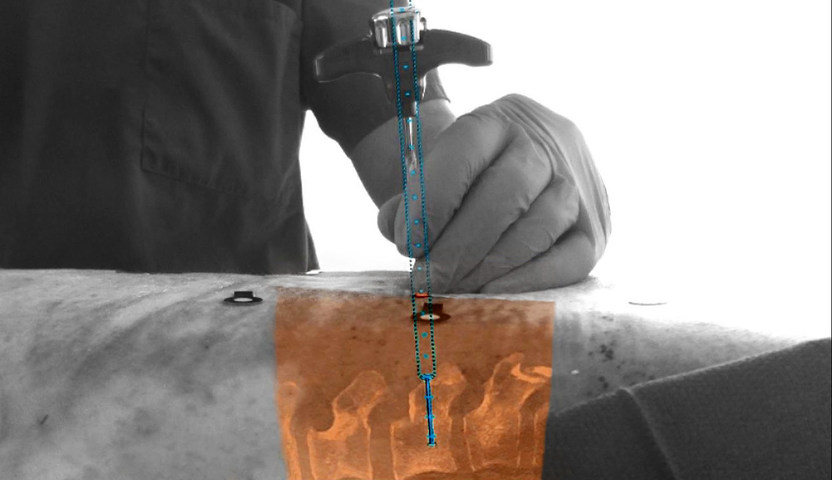 Tech giant Philips has launched the first ever augmented reality platform to help improve spinal surgery.
So far unnamed, the software combines real-time 3D X-ray imaging with optical imaging to provide an augmented reality view of both the inside and outside of a patient during surgery.
The platform helps surgeons perform spinal surgeries in an as minimally invasive fashion as possible to help reduce the side effects caused by traditional open spinal surgeries, such as blood loss and post-operative pain. It can also help drastically reduce procedure times.
"This new technology allows us to intraoperatively make a high-resolution 3D image of the patient's spine, plan the optimal device path, and subsequently place pedicle screws using the system's fully-automatic augmented-reality navigation," said Dr. Skúlason of the Landspitali University Hospital in Reykjavik, Iceland. "We can also check the overall result in 3D in the operating room without the need to move the patient to a CT scanner. And all this can be done without any radiation exposure to the surgeon and with minimal dose to the patient."
The technology has impressed in its first pre-clinical study, achieving a significantly better overall accuracy (85%) in pedicle screw placement – a common method for fusing the spine – with the assistance of the technology than without (64%). The results have been published in renowned spinal surgery journal Spine.
Although so far only tested in spinal surgery, the technology could be applied to any operation that requires minimal invasion such as cranial surgery or complex trauma fractures.
"This unique augmented-reality technology is an example of how we expand our capabilities with innovative solutions in growth areas such as spine, neuro and trauma surgery," said Ronald Tabaksblat, business leader of Image-Guided Therapy Systems at Philips. "By teaming up with clinical innovation leaders, we continue to find ways to convert open surgery to minimally invasive treatment to reduce post-operative pain and expedite recovery."
Technological solutions in the operating theatre has been an area of expertise for Philips for some time now. It markets its Hybrid Suite as an "OR (operating room) that meets your critical needs" and can be modified by adding a number of high-quality imaging technologies, such as its EchoNavigator software, which combines both X-ray and 3D transesophageal echocardiogram (TEE) imagery to help with heart investigations, and its AlluraClarity software, which provides X-ray imaging at much lower radiation doses than normal.
As part of a joint clinical research programme, Philips will supply 10 clinical collaborators with its Hybrid Suites installed with the new augmented reality technology to help develop the software.