Pfizer strikes $1.2bn licensing deal for Biohaven migraine drug
News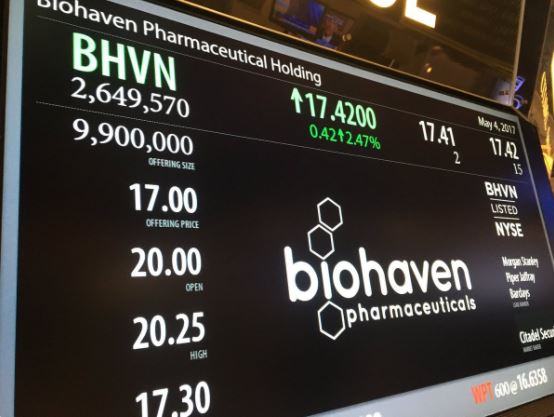 Pfizer has bolstered its central nervous system (CNS) drugs portfolio with a $1.2 billion deal to claim rights outside the US to Biohaven's Nurtec ODT, an oral therapy for migraine.
The agreement includes a sizeable $500 million upfront payment, reflecting that Nurtec ODT (rimegepant) is already FDA-approved for treating acute migraine with and without aura in adults, and for prevention of episodic migraine in patients who suffer less than 15 headache days per month.
The drug was the first in the oral CGRP inhibitor class to get an prevention indication approved by the FDA in May, and that has helped accelerate its rollout, bringing in $336 million in US sales for Biohaven so far this year.
It is competing in the US with rival oral CGRPs, namely AbbVie's Qulipta (atogepant) which was approved for episodic migraine prevention in September and AbbVie's Ubrelvy (ubrogepant) in the acute treatment category, as well as several CGRP-targeting antibodies delivered by injection or infusion from Amgen, Eli Lilly, Teva and Lundbeck.
Nurtec ODT is also under regulatory review in Europe and other countries, and Biohaven is pitching for an EU approval in the first half of next year.
Under the terms of the deal, Biohaven would be responsible for further clinical development of Nurtec ODT and the two partners will cooperate on securing approval for the product in ex-US markets.
Pfizer also gets rights outside the US to zavegepant, a new oral CGRP receptor antagonist currently being studied in phase 3 clinical trials as intranasal and soft-gel formulations. Data on the intranasal version in acute migraine treatment is due before the end of the year.
The upfront portion of the agreement includes $150 million in cash and a $350 million equity stake at a 25% premium to Biohaven's current share price, with $740 million in milestones plus royalties on sales outside the US.
"We believe there continues to be a significant market opportunity for oral CGRP targeting agents ahead, with a potential $4-$5 billion annual market in the US alone," said Biohaven in a statement.
The company has been viewed as a possible takeover target, but the closer ties now forged with Pfizer – plus a recent trial failure for late-stage multiple system atrophy (MSA) candidate verdiperstat – could make that less likely.
Shares in Biohaven fell sharply in the wake of the announcement, perhaps indicating that investors in the company were also hoping for a takeover announcement.