Pfizer defers drug price hike after Trump phone call
News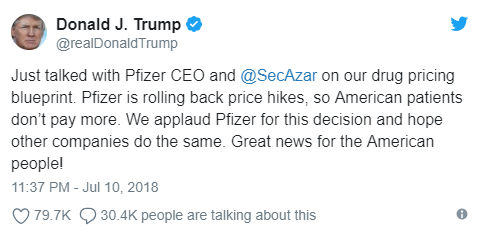 Pfizer has decided to defer the recent drug price increase after a long discussion with president Trump and HHS secretary.
Pfizer announced an immediate price increase on 100 of drugs on American market three weeks ago following a similar move at the beginning of this year. Two price jumps elevated the cost some of widely used drugs by a double-digit percentage.
This move sparked public anger headed by the American president himself who voiced his frustrations on social media criticising pharma companies for raising drug prices.
He stated that pharmas are "taking advantage of the poor and others unable to defend themselves, while at the same time giving bargain basement prices to other countries in Europe and elsewhere."
Trump was outraged with these economical decisions from pharmaceutical industry as he used drug pricing strategy in his presidential campaign and in May this year released a blueprint outlining how his cabinet is going to tackle this problem.
Pfizer didn't officially reply to presidential tweets, however, in a statement released yesterday announced they will "defer the company's price increases… to give the president an opportunity to work on his blueprint to strengthen the healthcare system."
This statement has been issued shortly after a conference call between Trump, Ian Read, Pfizer's chairman and CEO and Alex Azar, the US Health Secretary.
Read said in the statement: "We are encouraged that the President recognises the value our industry brings to society and our ability to fulfil our mission to discover and bring innovative new medicines to patients."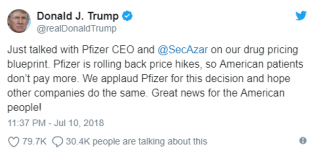 President Trump didn't hesitate to show his approval on his Twitter account saying: "We applaud Pfizer for this decision and hope other companies do the same. Great news for the American people!"
Pfizer says it will "return these prices to their pre-July 1 levels as soon as technically possible and will remain in effect until the Trump blueprint takes effect or the end of 2018, whichever comes first.