Novartis tests Cosentyx against Humira and biosimilars
News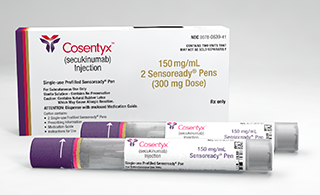 Novartis has launched two trials pitching Cosentyx head-to-head with AbbVie's Humira and one of its own biosimilars in a bid to increase its presence in a highly competitive market.
Cosentyx (secukinumab), an interleukin-17 antagonist, was approved by the FDA three years ago for plaque psoriasis, and two years ago for ankylosing spondylitis and psoriatic arthritis.
Already a blockbuster with sales of $556 million in the last quarter alone, Novartis has its sights set on grabbing Humira's sales.
Humira generated sales exceeding $16 billion and is the world's biggest-selling drug thanks to approval in a host of inflammatory disease uses.
But Humira is due to go off-patent in Europe in October this year, leaving it open to biosimilar competition from the likes of Samsung Bioepis and Boehringer Ingelheim, although in the US patent protection will last until 2023.
With the SURPASS and EXCEED trials Novartis is trying to turn up the heat on Humira and its cheaper copycats by trying to demonstrate superiority in ankylosing spondylitis and psoriatic arthritis respectively.
Cosentyx also faces direct competition from rival IL-17 drugs such as Lilly's Taltz (ixekizumab) and Valeant's Siliq (brodalumab).

Novartis' chief medical officer, Vas Narasimhan, said: "Many patients living with PsA and AS cannot enjoy a normal life as they are experiencing persistent pain and fatigue, and are at risk of long-term mobility loss. These patients deserve the best treatment possible, and we are hopeful that the EXCEED and SURPASS trials will provide valuable answers for doctors and patients in their decision making."
Dr Robert Landewé, professor of rheumatology in the Amsterdam Rheumatology and Clinical Immunology Centre and the Zuyderland Medical Centre, Heerlen, the Netherlands, said: "Head-to-head trials deliver the most robust data helping to advance clinical practice and are key to clinical decision making. In this case, these data would add to the body of evidence to underline the benefit of different biologic pathways for physicians."