Novartis appoints new ethics chief after Trump lawyer payment scandal
Novartis is aiming to draw a line under a scandal involving payments to Donald Trump's former lawyer with a new ethics chief – Siemens' former compliance head Klaus Moosmayer.
The new appointment comes just a few months after the revelation that the company paid $100.000 a month for a year to Michael Cohen, Donald Trump's personal lawyer, in return for insights into the president's health policy plans.
Felix Ehrat, then general counsel at Novartis, claimed that the contract with Cohen's consulting business was "legally in order", but "it was an error".
As a co-signatory along with the former CEO, Joe Jimenez, he took personal responsibility for the scandal and stepped down.
Novartis' CEO Vas Narasimhan held a managers conference call in the aftermath of the public scandal, where he conveyed the company needs to regain public trust and to "rethink the way it does business with consulting firms".
Narasimhan commented on the new appointment: "As we aspire to reimagine medicine, we must hold ourselves to the highest ethical standards and always aim to win and maintain the trust of society and our many stakeholders."
"Klaus has extensive experience in leading compliance for large global organisations and is internationally recognised in his field. As part of my executive leadership team, I am very confident that he will play a significant role in helping us to further define and shape our approach to ethics, risk and compliance in the coming years."
Based in Basel, Moosmayer will take over as head of ethics, risk and compliance at Novartis in December this year, reporting directly to the CEO, and replacing Shannon Thyme Klinger, who was promoted to general counsel.
The new ethics head has experience in rebuilding corporate image, after he spent the last decade helping oversee the Siemens' efforts to regain trust following several scandals and allegations that it bribed officials around the world in exchange for business.
His career history has also seen him practise law in Germany, specialising in 'white collar crime', litigation and business law. He has been chair of the anti-corruption task force of the business and industry advisory committee at the Organisation for Economic Co-operation and Development.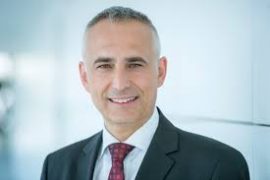 Commenting on his new role, Moosmayer said: "Society has high expectations of the pharmaceutical industry and rightfully so."
"I am pleased to see that there is already a strong focus on driving personal accountability for behaviours and generating learnings that can be applied across the organisation within Novartis."
"I look forward to building on this strong foundation to create a truly world-class risk and compliance function."
Don't miss your daily pharmaphorum news.
SUBSCRIBE free here.