NICE to play key role in UK drug fast-track scheme
NICE has been chosen to run the office that will decide which ground-breaking healthcare products will be fast-tracked for approval for use in England's NHS.
The Accelerated Access Collaborative (AAC) will co-ordinate actions of national bodies making decisions on drugs and technologies that will be granted access to the proposed fast path to market.
This new Accelerated Access Pathway will come into effect next April, and will select a handful of products each year that will be given special priority, hastening clinical development and offering an expedited route to market.
Decisions on which products to include will be based on advice from patients, clinicians and industry.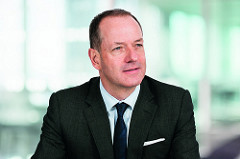 Former GlaxoSmithKline CEO Sir Andrew Witty will chair the AAC and help it design and implement the processes that will allow the pathway to operate.
Under Witty's leadership, the staff from NICE will help design processes to signal NHS priorities to technology developers, identify transformative products, and help choose products that could transform patient care.
They will also manage operational relationships and activities with external organisations and will be responsible for the ongoing development of the pathway.
Professor Carole Longson, director of the centre for health technology assessment at NICE, said: "Being given the responsibility to run the AAC programme office is a recognition of our world-renowned capability in delivering outputs using a complex, multi stakeholder process."
Longson said the AAC will work alongside NICE's Office for Market Access, a one-stop-shop giving advice about how to negotiate the cost-effectiveness body's technology assessments.
"The robust processes used by NICE will ensure the procedural resilience needed for the success of the collaborative," Longson added.
The pathway is one of a series of recommendations for streamlining access for new drugs, medical devices and diagnostics, set out last October by top civil servant Sir Hugh Taylor in the Accelerated Access Review (AAR).
The AAR was the brainchild of former life sciences minister George Freeman, before the cross-departmental post was dissolved in a cabinet reshuffle last year.
However, despite some guarded optimism about the new initiative, the pharma industry won't be expecting the AAC to address the fundamental barriers to market access in England, which remain very much in place.
Witty is not the only ex-GSK exec to get an influential government post – outgoing R&D chief Sir Patrick Vallance is to become the government's chief scientific adviser next April.
In his new role Vallance will give policy advice to the prime minister and cabinet, and head the Government Office for Science.
Don't miss your daily pharmaphorum news.
SUBSCRIBE free here.