NICE expands breast cancer patient population eligible for Enhertu
News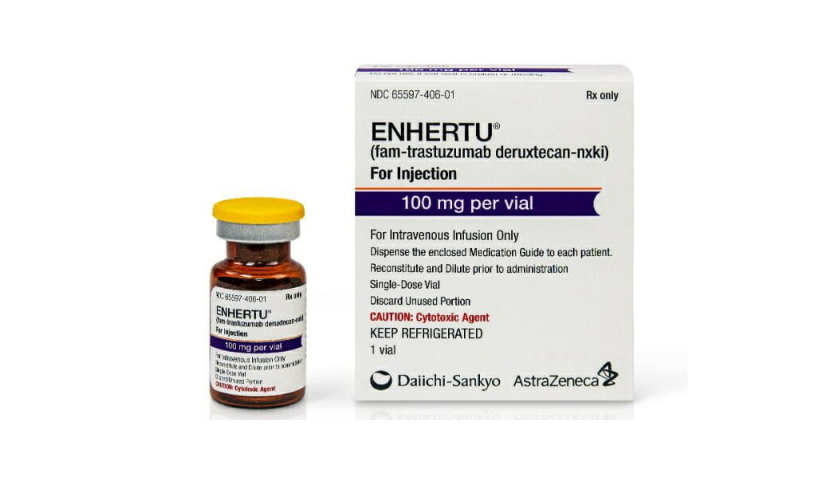 AstraZeneca and Daiichi Sankyo's Enhertu will become an option for hundreds more people with breast cancer in England and Wales, thanks to new guidance from NICE that will make it available via the Cancer Drugs Fund.
The HER2-targeting antibody-drug conjugate (ADC) can be used to treat HER2-positive, unresectable, or metastatic breast cancer after one or more prior anti-HER2 therapies, according to final draft guidance from the health technology assessment (HTA) agency, which is due to come into force on 1 February.
Enhertu (trastuzumab deruxtecan) was approved by the MHRA for this patient group in August based on the results of the phase 3 DESTINY-Breast03 trial, which showed that the ADC achieved a 72% reduction in the relative risk of disease progression or death compared to Roche's rival HER2 ADC Kadcyla (trastuzumab emtansine).
Kadcyla is the standard HER2 therapy for breast cancer patients whose disease has progressed despite prior treatment with trastuzumab (Roche's Herceptin or a biosimilar) plus taxane chemotherapy.
NICE said in a statement that there is not enough evidence yet to show how much longer people live with Enhertu compared with Kadcyla because the clinical trial is still ongoing, which means the cost-effectiveness calculations for the new drug are uncertain.
For that reason, it will be made available via the CDF, which funds the use of cancer drugs with unproven payments on a temporary basis while additional evidence is collected, rather than through routine NHS funding channels.
DESTINY-Breast03 is still ongoing, but has already shown a statistically significant, 36% improvement in overall survival in a new update presented earlier this month at the San Antonio Breast Cancer Symposium (SABCS), suggesting that NICE may move quickly towards allowing routine NHS use of Enhertu in this setting.
"This cutting-edge drug will give hundreds of patients with secondary incurable breast cancer hope, increasing the amount of time people have before their cancer gets worse, and allowing them to live normal, healthy lives for longer," said NHS England CDF clinical lead, Prof Peter Clark.
Patient organisation Breast Cancer Now said the move "highlights the continued importance of the [CDF] in enabling promising treatments to reach patients on the NHS quickly and it shows what is possible when NHS England, NICE, and the pharmaceutical industry work together."
"Now, the drug company and the Scottish Medicines Consortium must work quickly to ensure women in Scotland have the chance to benefit too," it added.