NHS app to end scramble for GP appointments
Patients across England will be able to book GP appointments online without the need to ring the local surgery, using their smart devices with a new NHS app installed.
NHS is aspiring to become one of the world's leading healthcare systems this December thanks to the app developed by NHS Digital.
The app will be available through the App Store or Google Play to all patients and once downloaded users can sign up for an NHS account.
Registered patients will have a safe and secure access to their medical records, make GP appointments with a click of a button, order repeat prescriptions, manage long-term conditions and access 111 online for urgent medical queries.
The app will also enable patients to state their preferences relating to data-sharing, organ donation and end-of-life care.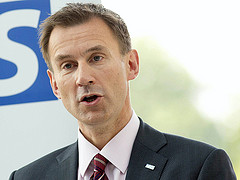 Jeremy Hunt, Health and Social Care Secretary, said: "The NHS app is a world-first which will put patients firmly in the driving seat and revolutionise the way we access health services."
"I want this innovation to mark the death-knell of the 8am scramble for GP appointments that infuriates so many patients."
"Technology has transformed everyday life when it comes to banking, travel and shopping. Health matters much more to all of us, and the prize of that same digital revolution in healthcare isn't just convenience but lives improved, extended and saved."
"As the NHS turns 70 and we draw up a long-term plan for the NHS on the back of our £394 million a week funding boost, it's time to catch up and unleash the power of technology to transform everyday life for patients."
The new app will put the NHS into the pocket of everyone in England, however, it is not the first digital health innovation in the UK.
Babylon Healthcare are already providing free to use online service called GP at Hand operating round the clock using smart phone app. It gives patients almost instant doctor's advice using video chat or access to in-person services at one of six London-based sites.
After rolling out the new app NHS Digital will focus on developing an NHS Apps Library and installing free NHS Wi-Fi in GP surgeries and hospitals.
Don't miss your daily pharmaphorum news.
SUBSCRIBE free here.