Neuraxpharm partners with mjn-neuro on epilepsy wearable
News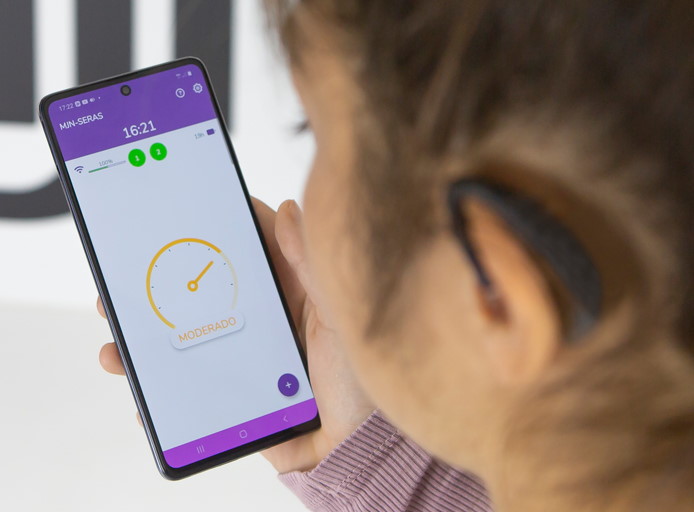 German specialty drugmaker Neuraxpharm has licensed commercial rights in Europe to a wearable device developed by Spanish start-up mjn-neuro that is designed to warn a person with epilepsy about an impending seizure.
The device – called mjn-SERAS – takes the form of a Bluetooth-enabled earpiece with a custom designed, 3D-printed brain activity sensor that monitors for electrical signal patterns in the brain which may indicate a seizure is on the way, by using an artificial intelligence algorithm in real-time.
The sensor communicates with an app on a smart device, which can send a warning to the patient and trusted contacts, allowing them to take action to try to prevent seizures and avoid injury that might occur during an attack.
The app also includes features to help patients manage their condition, including a seizure diary that can record and analyse data and be shared with a healthcare professional, and social functions to allow patients to reach out to others with epilepsy.
mjn-SERAS already has a CE mark in Europe and is currently in clinical testing, with results due in 2023.
The platform has been developed with support from the EU's European Institute of Technology Health (EIT Health) and funding from the Horizon 2020 programme, along with industrial and academic partners.
Bringing Neuraxpharm onboard provides an opportunity for mjn-neuro to accelerate the take-up of the wearable device, piggybacking on the 37-year-old drugmaker's sales channels across Europe.
The Langenfeld-headquartered company is a specialist in pharmacological therapies for central nervous system diseases, including branded products and generics, as well as consumer health products, with operations across the EU, UK, and Eastern Europe.
The deal with mjn-neuro – which covers all EU member states as well as the UK, Norway, Iceland, Liechtenstein, and Switzerland – represents its first 'beyond-the-pill' step into the digital health category.
"The agreement to commercialise mjn-SERAS is an important step in our strategy to offer end-to-end solutions for patients with epilepsy," said Neuraxpharm's chief executive Dr Jörg-Thomas Dierks in a statement on the licensing deal.
"There is a huge unmet medical need for new and innovative solutions to help patients suffering from epilepsy," he added. "By entering the digital health market, Neuraxpharm can provide further assistance and tap this unmet potential."