MSD's Keytruda approved in first line lung cancer in EU
News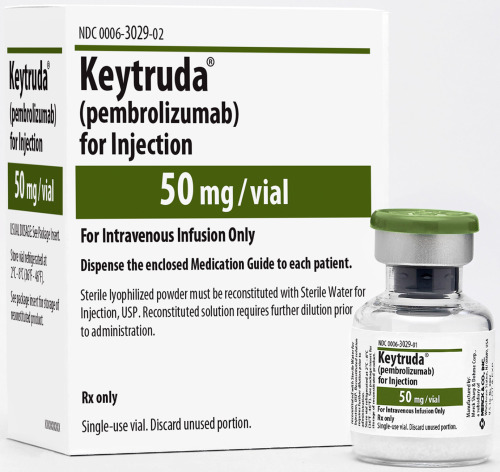 Merck, Sharp & Dohme's cancer immunotherapy Keytruda has been approved in Europe in first line metastatic lung cancer, meaning the drug will be available to patients on both sides of the Atlantic in this key use.
The European Commission approved Keytruda (pembrolizumab) for first line metastatic non-small cell lung cancer (NSCLC) in adults whose tumours have high PD-L1 expression, with no EGFR or ALK positive tumour mutations.
This means that Keytruda has a foothold in this lucrative indication where Bristol-Myers Squibb's (BMS) close rival, Opdivo, failed in a late-stage trial shock last year.
The Keytruda approval follows backing from Europe's CHMP scientific committee last month.
Both Keytruda and Opdivo are PD-1 inhibitors, which flick a chemical switch that instructs T-cells to attack tumours.
This form of cancer immunotherapy is quickly becoming standard of care, and generates billions of dollars in revenues for MSD, known as Merck & Co in the US, and BMS.
Merck & Co received a further boost earlier this month after it filed Keytruda with the US regulator, for use in combination with chemotherapy in first line lung cancer.
Analysts expect Keytruda to generate sales of almost $8 billion by 2025, although BMS' Opdivo is expected to pass the $10 billion sales mark a couple of years before that.
Professor Gary Middleton, consultant medical oncologist at University Hospitals Birmingham NHS Foundation Trust, said: "This decision on pembrolizumab means clinicians who have identified metastatic NSCLC patients with the PD-L1 biomarker may now offer pembrolizumab sooner, giving these patients another valuable treatment option that has superiority to chemotherapy in clinical trials.
"Innovative immunotherapies such as pembrolizumab open up new treatment options that not only have better safety profiles than existing chemotherapies, but studies with pembrolizumab have shown a significant extension of both overall survival and progression-free survival for these patients, which is really exciting."