Mental health startup NeuroFlow wins digital health challenge
NeuroFlow, a startup company focused on technology to support people with mental health issues has won a digital health challenge set by Otsuka.
The Philadelphia-based digital health firm plans to launch technology this month, capturing real-time and secure patient data.
This can help to support them with treatments by giving them targeted guidance, positive reinforcement and monitoring their progress.
The launch follows a successful beta test phase with over two dozen clinics around the US specialising in cognitive behavioural therapy, mindfulness, and exposure therapies.
NeuroFlow won the Elevate competition in Austin, Texas at the end of last month.
They beat off competition from five other entrepreneurs, who presented compelling pitches about their companies and technologies to an audience of healthcare experts, providers and investors.
The company scooped the $5,000 prize from the US Psych Congress, and perhaps more importantly, the recognition from the influential people gathered at the event.
Andrew Wright, vice president of Digital Medicine for Otsuka, said: "At Otsuka, we are proud of our commitment to developing innovative solutions. At the heart of this work is addressing mental health disorders and supporting patients and caregivers."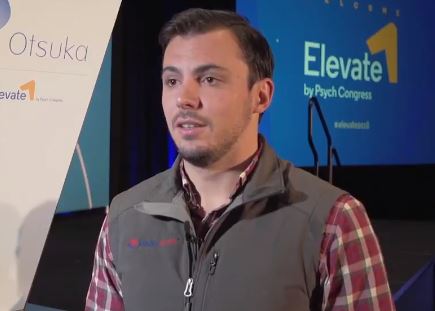 Neuroflow's Christopher Molaro
Christopher Molaro, CEO and co-founder of NeuroFlow, said: "The support of Otsuka and Psych Congress is exciting to everyone at NeuroFlow."
"The fact Psych Congress attendees chose NeuroFlow is validation to the value of our technology and to our belief that technology can play an important role in understanding and supporting those with mental illness and thank Otsuka for their support in that journey."
A repeat event is planned for March next year in Boston, Massachusetts.
Otsuka has been a trailblazer in digital health after getting the first ever "digital pill" approved in the US late last year.
Abilify MyCite combines Otsuka's ariprazole, used to treat schizophrenia, bipolar disorder and depression, with an ingestible sensor produced by proteus health.
In order to ensure patients take their medication, the sensor records when the pill has been taken and sends a message to a wearable patch.
This is then transmitted to a mobile phone app to track their compliance and share the data with caregivers and doctors.
Don't miss your daily pharmaphorum news.
SUBSCRIBE free here.