London's life sciences skyscraper gets planning consent
News
Plans for a major life sciences development at Canary Wharf in London, UK, have been approved by the local authorities, allowing the project to go ahead.
Canary Wharf Group and partner Kadans are planning to build a new 23-storey building as the centrepiece of a plan to develop a 3.3-hectare life sciences campus at North Quay in the heart of the capital with the potential to deliver 3.5 million sq. ft. of laboratory and affiliated space.
The move sets up the return of Canary Wharf as a focal point for the biopharma industry, three years after the European Medicines Agency (EMA) relocated from the site to Amsterdam as a result of Brexit.
The skyscraper will be a "vertical campus" with 823,000 sq. ft. of space and – according to the developers – when completed, will be Europe's largest and most technologically advanced life sciences facility.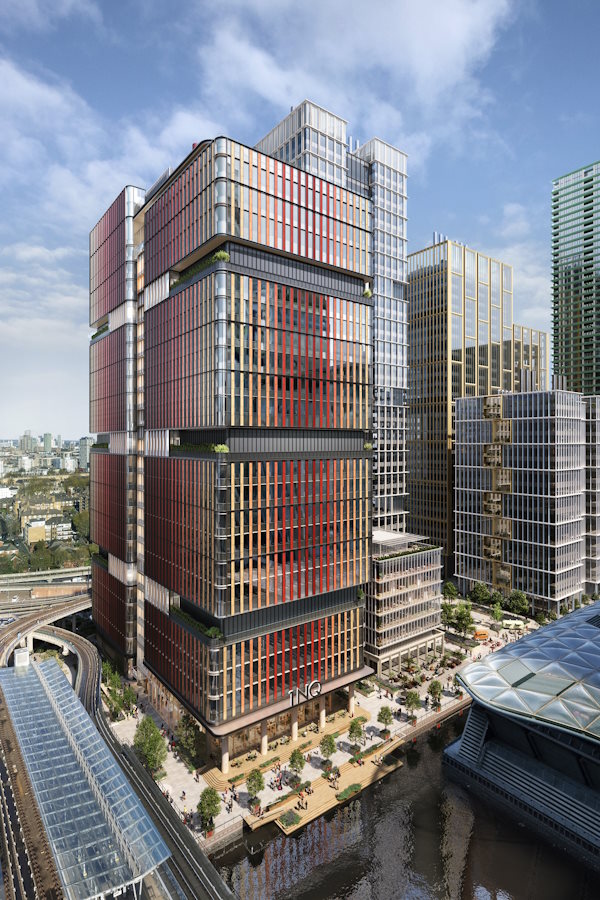 The building – designed by Kohn Pedersen Fox Associates – will have up to 60% lab space, including chemistry and high containment facilities and is expected to be completed in 2027.
It will be constructed using a low-carbon approach based on the use of highly insulated and airtight building fabric, energy-efficient mechanical, electrical and plumbing (MEP) systems, and renewable energy sources, including solar panels. Previous estimates have suggested the cost of construction could be around £500 million ($646 million).
"While the North Quay development is an integral focal point, we have been working in tandem to nurture and grow our current life sciences community and we have built real momentum this year through leasing success and working with our partners Kadans to develop bespoke and innovative new facilities," said Canary Wharf Group chief executive Shobi Khan.
"The next chapter in the evolution of Canary Wharf is well underway with the next generation of health and life science companies set to become a significant presence in our sustainable, mixed-use environment."
The green light for the home-grown project is a boost for the UK life sciences sector, which according to the Association of the British Pharmaceutical Industry (ABPI) has seen a substantial drop in inward investment from £1.9 billion in 2021 to £1 billion in 2022.
The industry group linked the fall in investment to historically high levels of clawback rates under the UK's voluntary and statutory schemes designed to limit increases in spending by the NHS on medicines.
Meanwhile, there have been concerns about falling numbers of clinical trials, tax-related moves that have threatened R&D, and the need to bolster manufacturing investments, as well as the increasing distance between the UK and its scientific partners in Europe.
Along with the North Quay project, London will also benefit in the coming years from the relocation of GSK's headquarters to a central location in the capital, while the so-called 'golden triangle' extending between the capital, Oxford, and Cambridge, will also have a new Moderna R&D facility based at the Harwell Science Campus in Oxfordshire.