Lilly's Olumiant okayed in alopecia, with Pfizer, Concert in hot pursuit
News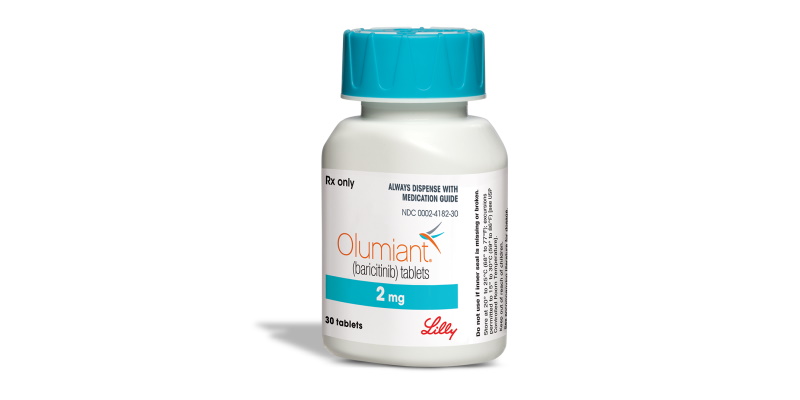 Eli Lilly and Incyte's Olumiant has secured the first FDA approval for a systemic drug to treat alopecia areata, an autoimmune condition causing patchy hair loss that affects more than 700,000 people in the US.
The JAK1/2 inhibitor has been cleared for adults who are severely affected with the condition at a dose of 2mg once-daily, which can be stepped up to 4mg/day if needed, and according to the FDA will "help fulfil a significant unmet need for patients."
It is estimated that there are around 300,000 people in the US with severe alopecia that could be eligible for treatment with Olumiant (baricitinib), said the agency.
In trials, patients who had at least 50% scalp hair loss for more than six months who were treated with Olumiant, with 17-22% of those at the 2mg dose and 32-35% at the 4mg dose achieving at least 80% scalp hair coverage by week 36 of treatment.
The approval comes despite scrutiny of the safety of the JAK inhibitor class by the FDA, with the risk of heart-related issues leading to warnings being applied to the labels of Olumiant and other drugs in the class including Pfizer's Xeljanz (tofacitinib) and AbbVie's Rinvoq (upadacitinib).
Olumiant is also approved to treat rheumatoid arthritis and some hospitalised patients with COVID-19, and made more than $1.1 billion from its approved indications last year.
Analysts at Clarivate have said that the US market for alopecia therapies could reach $1.7billion in 2029, with JAK drugs accounting for the biggest share. There is reported to be off-label use of Xeljanz in alopecia, although that is likely to diminish now that an FDA-approved option is available.
The new approval could add some additional momentum to growth after a series of setbacks, including stalemate with the FDA on expanding its use into atopic dermatitis – an indication which has been approved in Europe and Japan – as well as a failed clinical programme in lupus.
Lilly and Incyte may face competition in the not-too-distant future however, as Pfizer has already reported positive results in the pivotal ALLEGRO trial of its JAK3 inhibitor ritlecitinib in alopecia, with a filing due this year assuming a companion, long-term study called ALLEGRO-LT hits the mark in its initial readout.
Also in contention is Concert Pharmaceuticals, whose deuterated JAK1/2 inhibitor CTP-543 also has positive data in a first phase 3 trial, with a second due to report in the third quarter of this year.
Nicole Friedland, chief executive of the National Alopecia Areata Foundation (NAAF) in the US, said that Olumiant's approval is "a milestone [that] can spark hope for many patients and encourage new treatment conversations with their doctors."
The 2mg pill costs around $2,500 for a month's supply, but Lilly said it would extend the use of a savings card for eligible commercially insured patients that will cap out-of-pocket costs for patients at $5 if covered by their provider, and $25 if not covered.