Lilly to sell generic Humalog insulin at half price
News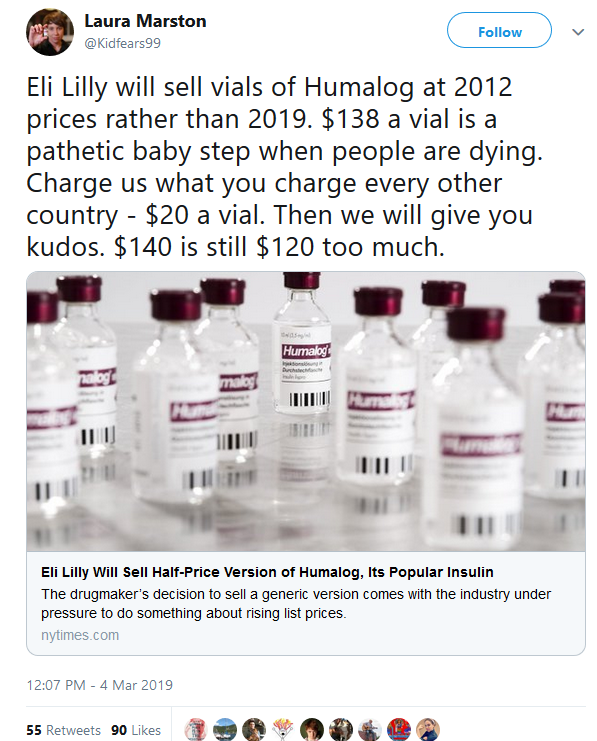 Eli Lilly has responded to criticism of high prices for insulin products in the US by launching a cut-price version of its Humalog brand.
The 'authorised generic' uses the same insulin lispro ingredient as Humalog but will have a 50% lower list price to the original product, although Lilly is already being asked why it did not simply lower Humalog's price, and whether it will guarantee that the price of the generic will stay low.
Some diabetics are not impressed with the move:
https://twitter.com/Kidfears99/status/1102541103587385344
Despite being off-patent for many years, Humalog and other insulin brands continue to make high sales, with Lilly booking around $3 billion from its product last year, $1.8 billion of which was generated in the US.
The new generic will sell for a little under $140 per vial or around $265 for a five-pack of injectable pens, says Lilly, which will market it through its ImClone Systems subsidiary. The strategy of launching an authorised generic is similar to that adopted by Mylan when it came under fire over the cost of its EpiPen injector for severe allergic reactions in 2016.
Along with other insulin producers Sanofi and Novo Nordisk, Lilly has been in the spotlight over insulin pricing and has attracted the attention of lawmakers in the US who want the products to become more affordable.
Among them are Senators Chuck Grassley (Republican) and Ron Wyden (Democrat), the heads of the influential Senate Finance Committee, who recently launched a bipartisan investigation into why prices had risen sharply in recent years. They have singled out Humalog, noting its price rose from $35 to $234 per vial between 2001 and 2015, a near-600% increase.
Executives from top drugmakers were grilled by lawmakers at a congressional hearing on drug pricing just last month, having initially refused to attend in person.
The pharma bosses said that prices had to remain high, and that pharmacy benefit managers (PBMs) and other "middlemen" in the US supply chain are pocketing discounts instead of passing them on to patients, but were warned that if action wasn't taken legislation would follow.
Lilly maintains that having an authorised generic will help tackle the rebate issue, and says Humalog will still remain available for those who want to continue accessing it through their current insurance plans.
"The significant rebates we pay on insulins do not directly benefit all patients. This needs to change," says the company's CEO David Ricks.
While noting there are "numerous ideas" on the table, including a January rebate reform proposal, "for people with diabetes, a lower-priced insulin can serve as a bridge that addresses gaps in the system until a more sustainable model is achieved," he adds.
It will help by "immediately providing a more affordable option for certain Americans in high-deductible health insurance plans, the uninsured and seniors that hit the coverage gap in their Medicare Part D plans," writes Ricks in a blog post.