J&J lung cancer initiative will use Optellum's 'digital biomarker' tech
News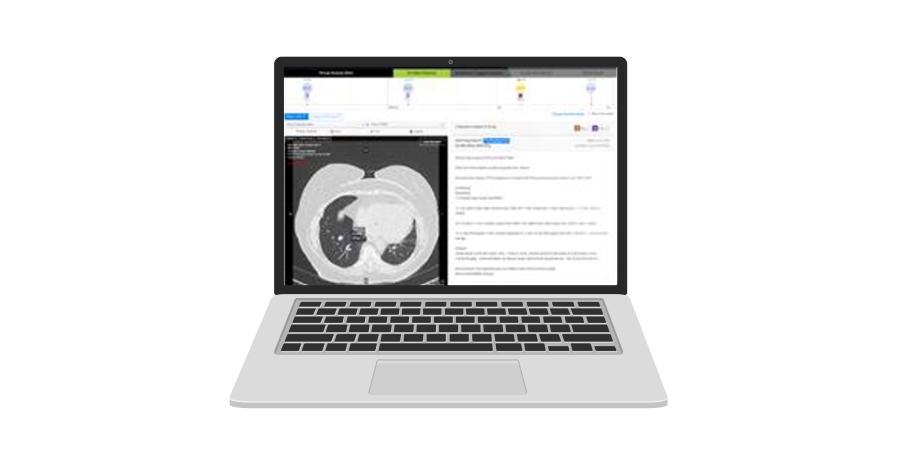 Three years ago, Johnson & Johnson set up a wide-ranging initiative with Boston University to try to improve lung cancer survival rates through prevention and early intervention. Now, it's calling on artificial intelligence specialist Optellum to help with that effort.
UK-based Optellum has developed an AI-powered clinical decision support – called Virtual Nodule Clinic – that it says acts as a "digital biomarker", looking for signs of cancer in computed tomography (CT) scans. It was approved by the FDA in March, and is starting to roll out in US hospitals.
The platform uses imaging analytics and neural networks to examine the small lesions that are often seen in CT scans, which may or may not be malignant. It generates a score that predicts the risk of lung cancer, which can enable earlier diagnosis and treatment, potentially at the pre-cancerous stage.
In trials that supported the approval, Virtual Nodule Clinic achieved a statistically significant improvement in diagnostic accuracy and consistency of pulmonologists and radiologists, who made better clinical management decisions as a result of the AI.
The approach ties in firmly with J&J and Boston University's Lung Cancer Initiative, which aims to combine prevention, diagnosis and treatment together to tackle the disease by bringing together tools across J&J's focus of pharmaceuticals, medical devices and consumer health products.
The alliance started with lung cancer because it has the highest death toll of all forms of cancer, in part because it is generally at an advanced stage at diagnosis, and it kills more people than the next three most-deadly cancers – colon, pancreas and breast – combined.
Approximately 1.8 million people worldwide die from lung cancer each year, and the current five-year survival rate is only 20%.
Most drugmakers working in lung cancer are focused however on treating late-stage disease, but the Lung Cancer Initiative wants to act much earlier when the disease is curable.
"AI is key to enabling integration of imaging, clinical, and molecular data – such as liquid biopsies – in order to diagnose disease even earlier," commented Prof Sam Janes, head of the respiratory research department at UCL Hospitals, who is on the board of Optellum.
"This convergence of technologies has tremendous potential to help physicians prevent, intercept, and ultimately cure patients with early-stage lung cancer," he said.
Optellum isn't the first digital health company to join the scheme. On the prevention side, it is already working with Pivot, a Californian company that has developed a smoking prevention platform based on a carbon monoxide-detecting breath sensor, a smartphone-based caching app to help smokers quit, and nicotine replacement products to fight cravings.
Other projects are looking at the use of robotics to diagnose and treat lung cancer – drawing on technology developed by Auris, which was acquired by J&J in 2019 – along with microwave ablation technology from its device subsidiary Ethicon that can heat and kill cancer cells.