J&J showcases its 10 blockbuster prospects
Johnson & Johnson says is it will have more than 10 new drugs filed or on the market within the next four years – and all likely to exceed $1bn in annual revenues.
J&J believes that this consistent delivery of pipeline assets to the market will help it meet its goal of growing sales by 5% ever year up to 2020.
Head of R&D William Hait and pharma business leader Joaquin Duato presented the company's bullish forecast yesterday at an R&D meeting, and highlighted the breadth of its pipeline across immunology, cancer and CNS therapy areas.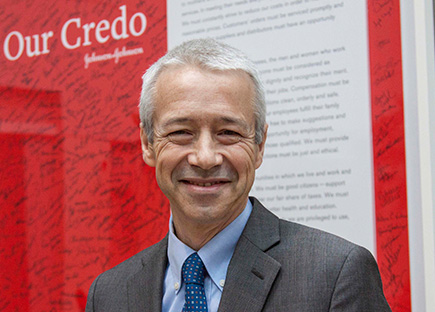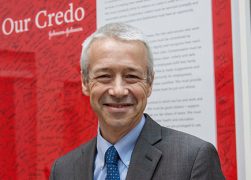 In immunology, the company has two late-stage drugs: anti-IL-23 antibody guselkumab for psoriasis and sirukumab, an IL-6 inhibitor for rheumatoid arthritis, and both look set to gain approval by the end of 2017.
In oncology, there is apalutamide (ARN-509) for pre-metastatic prostate cancer, an anti-IL3 receptor alpha antibody talacotuzumab for acute myeloid leukaemia (AML), FGFR blocker erdafitinib for solid tumours and PARP inhibitor niraparib in prostate cancer. The latter is already approved as Zejula for ovarian cancer, having acquired the rights from Tesaro last year.
J&J is working with Geron to co-develop imetelstat for myelofibrosis, and in CNS, esketamine for treatment-resistant depression will be filed shortly. The drug is a new intranasal formulation of the well-known tranquiliser and street drug ketamine, which gained a breakthrough designation from the FDA last year.
Meanwhile in the area of major depressive disorder, JNJ-7922 is an orexin-2 antagonist being developed as an adjunctive therapy.
Finally, the company also has two strong candidates in the field of antivirals. Lumicitabine for respiratory syncytial virus (RSV) infection has shown promise in trials involving infants with RSV infection, while pimodivir (JNJ-3872) could offer protection against serious flu infections, including H1N1 (pandemic) and H5N1 (avian) strains.
Many of these molecules were acquired from external licensing, but the company has also recently bought out an entire company. It will shortly complete its $30billion acquisition of Actelion. This will add a sixth therapeutic area to its portfolio, pulmonary arterial hypertension, based around the Swiss-headquartered company's products Tracleer and Opsumit.
Analysts EP Vantage currently predict that J&J will stand fifth in the overall pharma market by revenues in 2022. In R&D spending terms, the company is expected to be third behind Roche and Novartis, with research spending rising to $8 billion in five years' time.
Don't miss your daily pharmaphorum news.
SUBSCRIBE free here.