J&J seeks wider use of its Spravato antidepressant in US
News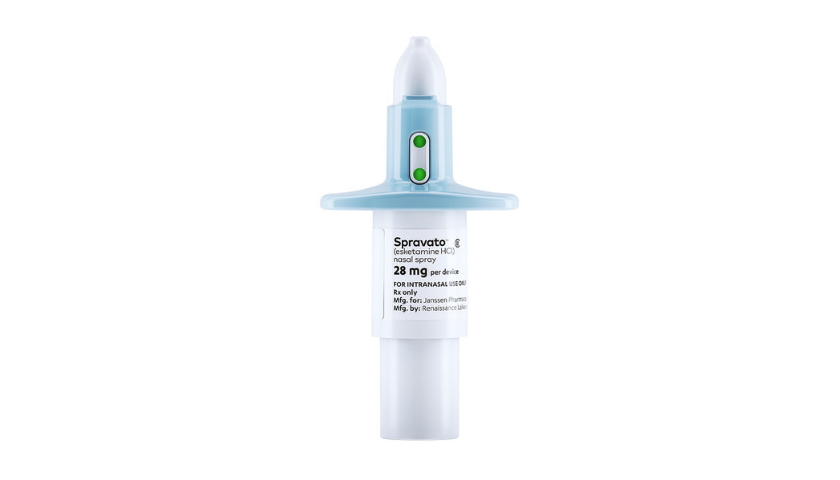 Johnson & Johnson has filed for US approval for a new claim on the label for its nasal spray antidepressant Spravato that would extend its use to include patients who are considered at high risk of suicide.
Spravato (esketamine) was approved by the FDA, ending a 30-year hiatus in new-mechanism drugs for depression, and is currently used for adults with treatment-resistant depression (TRD) who have cycled through at least two treatments without relief.
The new filing would expand the use of the drug to include adults with major depressive disorder, (MDD) with major depressive disorder who have active suicidal ideation with intent.
Both indications have breakthrough designations from the FDA.
Husseini Manji, who heads the neuroscience group at J&J's pharma unit Janssen, said the filing was a step towards providing a therapy that can be used in "a psychiatric emergency that requires immediate intervention."
Spravato is the first antidepressant to work via the glutamate NMDA receptor, and has caused a stir among psychiatric specialists because it starts to work much more quickly than current antidepressants.
Older tricyclic or selective serotonin reuptake inhibitor drugs can take weeks to elevate mood, while some data suggests Spravato starts to work within a day or even a few hours.
It is a derivative of ketamine, which has been available as an intravenous injection in the US through some private clinics but as an off-label therapy it isn't covered by health insurance.
The FDA submission is based on the results of two phase 3 trials – ASPIRE I and II – which compared Spravato to a placebo nasal spray as an add-on to oral antidepressants in high-risk MDD patients.
In both trials, Spravato was more effective than placebo at reducing MDD symptoms 24 hours after dosing, although there was no significant difference between the two groups on suicidality, a secondary endpoint that covers thinking about suicide as well as planning or attempting to take one's own life.
J&J has said that could be due to the benefits of bringing vulnerable patients into care, which in addition to new or optimised antidepressant therapy also included hospitalisation, as both groups showed a benefit in the trials.
More than 16 million adults in the US are affected by depression, and about one-third of patients don't respond to current treatments. NHS data suggests that overall around 2% of patients treated for depression will die by suicide, but this rises to 4% among those treated in hospital.
J&J has high hopes for Spravato, although it has faced criticism in the US for the drug's list price of $6,785 for the first month and $3,450 thereafter. The company has said it could become a $1 billion products, while analysts' forecasts for the drug range widely from around $600 million to $3 billion a year, depending on payer uptake.
Spravato is also being reviewed by the EMA, which is looking to make a decision later this year or early 2020.