J&J filing aims Tremfya at crowded psoriatic arthritis market
News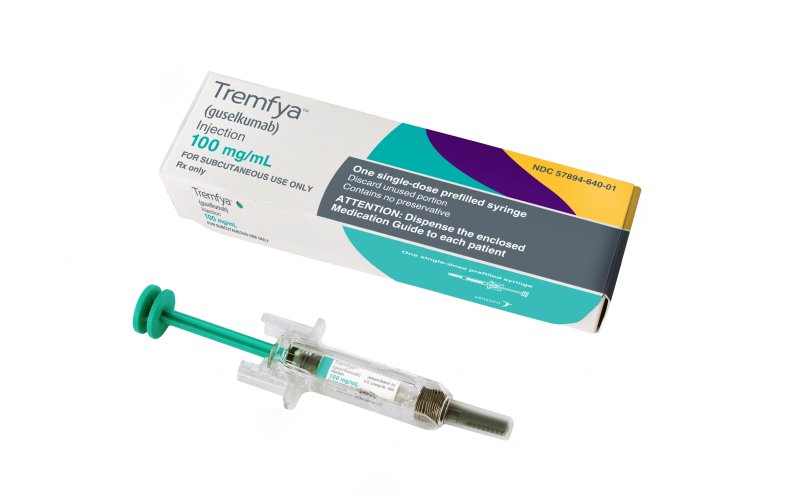 Johnson & Johnson has filed its IL-23 inhibitor Tremfya for approval in psoriatic arthritis (PsA), its second indication, setting up what could be another brutal battle for market share.
Tremfya (guselkumab) – J&J's follow-up to blockbuster IL-12 and IL-23 inhibitor Stelara (ustekinumab) – has been approved in the US for moderate-to-severe plaque psoriasis since 2017.
The new PsA filing is based on the results of two phase 3 trials of Tremfya – DISCOVER-1 and DISCOVER-2 – that met the primary endpoint of a 20% improvement in PsA symptoms (ACR 20 response) at week 24.
J&J's drug also improved several secondary measures, including ACR 50 and ACR 70 responses and improvements in physical function.
"With this submission to the FDA, we hope to offer the first IL-23 … inhibitor to clinicians and their patients for active psoriatic arthritis," said Andrew Greenspan, head of immunology medical affairs at J&J's pharma unit Janssen. 
"Psoriatic arthritis is a complex disease involving both the skin and the joints with a heterogeneous range of clinical manifestations, and it requires treatment options with different mechanisms of action."
J&J also expects to submit a marketing application for Tremfya in PsA with the European Medicines Agency (EMA) before the end of the year.
Sales of Tremfya more than doubled in the first half of the year to $452 million, putting it on course to clear the $1 billion threshold this year. It still has a long way to go however before it can match Stelara, which made almost $3 billion in the first six months of 2019.
Approval in PsAs would be another another step on the way as J&J prepares for biosimilar competition to Stelara in the US in 2023. Tremfya is also in trials for Crohn's disease, ulcerative colitis and hidradenitis suppurativa.
Like psoriasis, psoriatic arthritis is becoming a highly crowded market, with new drugs like Novartis' IL-17 inhibitor Cosentyx (secukinumab), Boehringer Ingelheim/AbbVie's IL-23-targeting Skyrizi (risankizumab), Eli Lilly's IL-17 blocker Taltz (ixekizumab) and Pfizer's oral JAK inhibitor Xeljanz (tofacitinib) all jostling for a share.
Analysts have suggested that it will make it hard for Tremfya to reach the heights of its predecessor and all the new biologics may have to be content with a smaller slice of the market, particularly as biosimilars of first-generation biologics like the TNF inhibitors start to emerge.
A head-to-head trial of Taltz and Tremfya in psoriasis came out in favour of Lilly's drug, while Tremfya outdid Cosentyx in another comparative psoriasis study. Future trials may shift the clinical landscape in both psoriasis and PsA.
Some analysts meanwhile have suggested Tremfya's biggest challenge will be to stay ahead of Skyrizi, which has been proposed as a 'best-in-class' drug with efficacy that is at least as good as J&J's drug, with less frequent dosing during the maintenance phase of treatment, and competitive pricing.