J&J builds case for antidepressant Spravato with head-to-head trial
News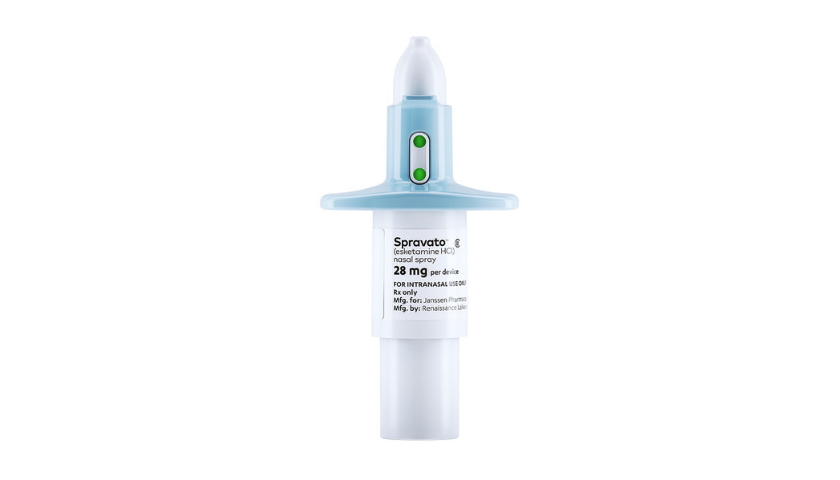 Johnson & Johnson's Spravato therapy for treatment-resistant depression (TRD) hasn't made the impact the company hoped for in the market, and it is looking to new clinical results to accelerate its take-up.
Yesterday, the drugmaker added to the evidence behind Spravato – an intranasal formulation of esketamine – with the release of top-line data from a head-to-head study with a long-acting formulation of the antipsychotic quetiapine, which is also used to treat TRD.
The phase 3 ESCAPE-TRD study in 676 patients revealed that significantly more of those treated with Spravato were able to achieve remission from symptoms of depression without a relapse over 32 weeks of follow-up compared to quetiapine. Both drugs were given on top of standard antidepressants to patients wo had failed a least two earlier treatments.
Spravato has been approved since 2019 for TRD, with its label extended the following year as a rescue therapy for adults with major depressive disorder (MDD) who were at risk of self-harm or suicide.
Despite J&J's high hopes for the drug, sales have remained low, not warranting a mention in any of J&J's quarterly financial updates since launch, and the company will look to the new data to try to encourage take-up.
One issue has been the cost of the drug, with health technology assessment agency NICE in the UK and the ICER organisation in the US both concluding its price tag means it is not a cost-effective option for health systems.
Earlier this month, NICE reiterated its position that Spravato should not be used for TRD, after an appeal of earlier rejections by J&J, with a final decision due in mid-December.
In the ESCAPE-TRD study, Spravato outperformed quetiapine on the main endpoint of achieving remission at eight weeks, measured by the Montgomery-Åsberg Depression Rating Scale (MADRS), with rates of 27.1% and 17.6%, respectively, according to J&J's pharma unit Janssen.
Maintaining remission at 32 weeks was a key secondary endpoint, hit by 55% of the Spravato group and 37% of patients taking quetiapine, with the proportion of patients remaining relapse-free at 21.7% and 14.1%, respectively.
"Achieving remission and remaining relapse free are major milestones in the treatment of depression and are especially challenging in TRD, where patients have not responded to previous therapies," said Prof Andreas Reif of University Hospital Frankfurt, the principal investigator for ESCAPE-TRD.
"This provides further evidence for the use of esketamine nasal spray in this difficult-to-treat population and offers hope for the millions of people affected by TRD," he added.
Analysts at GlobalData have previously forecast that Spravato will generate global sales of approximately $383 million by 2029, with its potential pegged back by its cost and a requirement for two hours of patient observation after administration.
They suggest other fast-acting antidepressants could offer a competitive challenge to J&J's drug, including Axsome Therapeutics' recently approved Auvelity (bupropion/dextromethorphan), Sage Therapeutics/Biogen's zuranolone, Relmada Therapeutics' REL-1017 (esmethadone), and Seelos Therapeutics' SLS-002, an intranasal formulation of racemic ketamine.