Indegene gains $200m backing for expansion plans
Indegene has struck a deal with two investment companies that will see them take a $200 million minority stake in the healthtech company.
The funding from The Carlyle Group and Brighton Park Capital will pave the way for Indegene to accelerate its global expansion and consolidate its position in healthtech solutions, the firm said.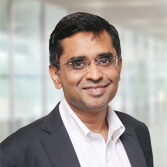 Manish Gupta (pictured left), Indegene's co-founder and CEO, said: "We are excited about our partnership with Carlyle and Brighton Park as their collective strengths will bring significant value to Indegene as we build on the deep domain knowledge and vertical technology we have developed over the past 20 years.
"Carlyle's commitment to the healthcare sector with their global network and deep pharmaceutical expertise, coupled with Brighton Park's deep experience in the technology sector and nuanced understanding of our space, makes the two firms the ideal partners to support our company's continued growth."
Founded in 1998 Indegene has more than 3,000 employees across North America, Europe, China, Japan and India, and provides technology platforms and commercialisation services to pharmaceutical, biotechnology and medical device companies.
Neeraj Bharadwaj, managing director of the Carlyle Asia advisory team, said: "We have been impressed by the strong entrepreneurial energy of the management team at Indegene and their technology-led, data driven, differentiated global delivery model, as well as by their ability to scale relationships with global healthcare enterprises.
"We believe this puts Indegene in a strong position to benefit from the significant growth drivers we are seeing in the healthcare space. We look forward to leveraging our global healthcare network and capabilities to help the company further strengthen and expand its portfolio while deepening relationships with its global client base."
Don't miss your daily pharmaphorum news.
SUBSCRIBE free here.