HypnoVR raises €4.5m for its digital sedative for pain, anxiety
News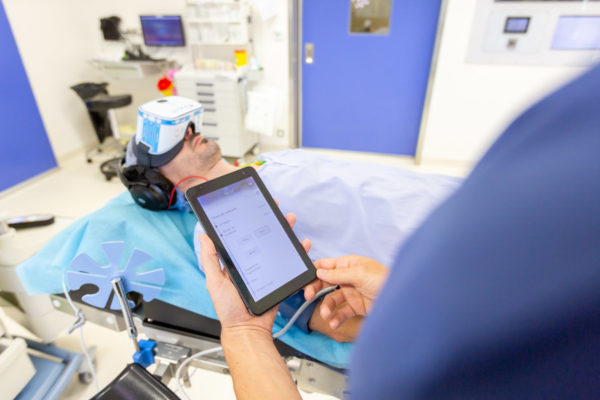 French digital health startup HypnoVR has completed a first-round financing, raising €4.5 million ($5.1 million) that will be used to roll out its virtual reality-based hypnosis therapies.
The company has developed a an individually tailored immersive VR platform that it uses to deliver clinical hypnosis techniques to alleviate chronic pain, anxiety and discomfort during medical procedures like surgery.
The HypnoVR platform is already in use in over 240 healthcare institutions across Europe as a form of non-pharmacological anaesthesia, helping to reduce the need for sedative and anxiolytic drugs and the side effects associated with them in settings like dental care, oncology, urology, gynaecology and medical imagery.
The software-as-a-medical device (SaaMD) is the subject of 13 scientific papers, including a study that the company says showed that patients using HypnoVR reported a 93% reduction in anxiety when catheterised for implantable ports.
Others have pointed to  a 41% reduction in chronic pain, a 45% reduction in the consumption of opioids, a 63% in the consumption of anxiolytics and 40% cut in post-operative pain in scoliosis surgeries.
The Series A round was led by Belgian venture capital companies Theodorus and Akiles, the French state via Banque des Territoires, and Alsace regional investment agency Capital Grand Est.
Earlier backers also joined the round, including Guillaume Richard, founder and chief executive of French home care service company OuiCare, the office of Daniel Caille, CEO of private hospital services group Vivalto Santé, and public investment bank Bpifrance.
HypnoVR said the funds would be used to "accelerate the commercial roll-out of its virtual reality-based medical hypnosis solution in France and globally."
Other companies have also developed "digital sedation" platforms that draw on clinical hypnosis approaches delivered via VR, including Belgium's Oncomfort, which raised €10 million in its first-round financing last year.