Humira tops list of drugs with unwarranted US price hikes
News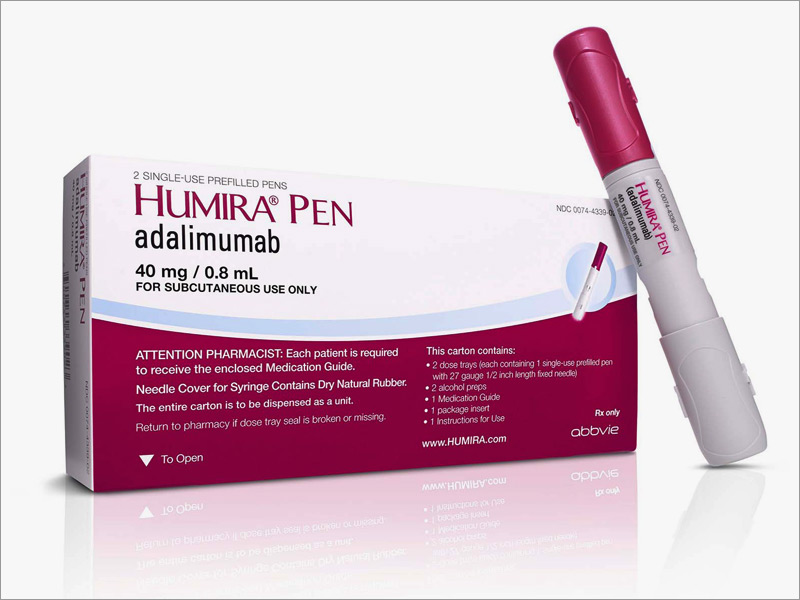 AbbVie's Humira heads a list of seven medicines that collectively contributed to a $5.1 billion increase in US drug spending over two years – with no new clinical data to justify their price rises.
The list, compiled by the Institute for Clinical and Economic Review (ICER), zeroes in on drugs whose estimated net price increases in 2017 and 2018 would have caused the greatest increase in drug spending in the US.
ICER looked at the top 100 medicines by sales revenue to draw up the inaugural short-list, which may be updated periodically, and narrowed that down to 77 drugs whose price increases were more than twice the Consumer Price Index rate of inflation.
Immunology drug Humira (adalimumab) – already the top-selling drug in the world with sales approaching $20 billion last year – had a 19.1% increase in its wholesale acquisition cost from late-2016 and the end of 2018 that increased spending by more than $1.8 billion in the two-year period.
That increase was more than double the impact of the drug in second position, Roche/Genentech's Rituxan (rituximab), whose wholesale acquisition cost (WAC) rose 17% over the period and increased spending by $806 million.
The remaining five drugs  (see table below) hiked spending by $300 to around $700 million and included Pfizer's Lyrica (pregabalin), Gilead's HIV therapy Truvada (emtricitabine/tenofovir disoproxil fumarate), Amgen's white cell stimulator Neulasta (pegfilgrastim), Eli Lilly's Cialis (tadalafil) for erectile dysfunction and Biogen's oral multiple sclerosis therapy Tecfidera (dimethyl fumarate).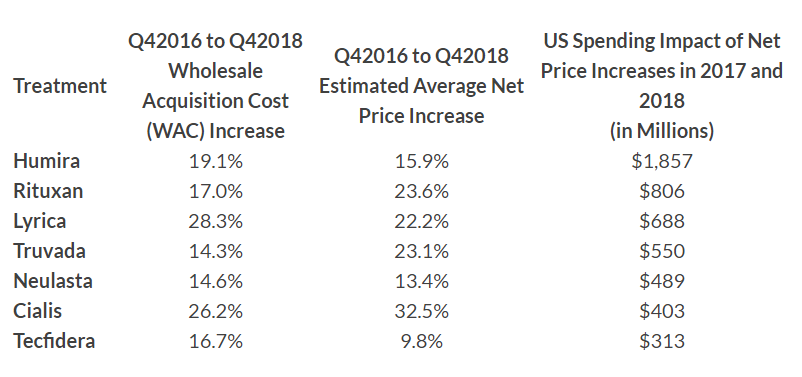 "The norm in the US has been for most pharmaceutical manufacturers to increase prices year after year — even accounting for the discounts they give insurers, and even for drugs that already sit at the top of the chart of spending for drugs in the US," said David Rind, ICER's chief medical officer.
"If new evidence emerges that shows a treatment may be more beneficial than what was previously understood, perhaps that new evidence could warrant some level of price increase," he continued. "For seven of the nine drugs we reviewed, however, we found that the price increases lacked justification in new evidence."
Two other drugs with sizeable price increases – Celgene's blood cancer drug Revlimid (lenalidomide) and Gilead's HIV therapy Genvoya (elvitegravir/cobicistat/emtricitabine/tenofovir alafenamide) – did have important new clinical evidence during the study period.
ICER acknowledges the new data but says it isn't able to say whether the new evidence justified the level of price increase as it wasn't able to carry out full cost-effectiveness assessments.
The report includes rebuttals from all seven companies whose products are singled out. AbbVie for example says it "respectfully disagrees" with the conclusions and maintains that ICER's assessment doesn't "look holistically at AbbVie's investment in Humira, from clinical studies to real-world data to product enhancements that support the patient experience."
Amgen meanwhile says ICER's estimate of the net price increase for Neulasta is flawed and its own calculations indicate Neulasta's net price change for the 2017-2018 period is in line with inflation.